Instagram is no more just a photo-sharing app. 
Instagram has become a powerhouse platform for content creators and influencers to reach their followers. Today, countless brands use this medium to promote their products with strategic Influencer Marketing Campaigns. Paid promotions have been ideal, but with the rising popularity of influencers, audiences still turn to their influencer's reviews before trusting a brand. 
But what makes for a successful influencer marketing campaign? An influencer strategy is more than just about roping in influencers. Also, targeting the right audience, creating relevant content, and choosing the right platform. 
Still on the fence thinking about whether influencer marketing is suitable for your brand? We give you not 1 but 10 stories of successful Instagram Influencer Marketing Campaigns – and tell you how they have perfected their influencer marketing campaigns on Instagram and doubled their ROIs. 
Let's find out!
---
Influencer(s) – 10 prominent food and lifestyle influencers 
USP of the Campaign: The campaign depicts a perfect mix of influencer content online and on-ground activation. It was a success with unexpected visibility and impressions. Nescafe conducted an in-person Barista workshop and a sampling campaign where influencers built strong engagement with the audience. 
The Campaign: This was an impactful campaign to launch an all-new line of coffee, AZERA Intenso Espresso from Nescafe. The brand reached out to the top 10 Instagram influencers who resonated with food, fashion, lifestyle, and, of course, COFFEE.
They executed two different campaigns to raise brand awareness, making it sound less commercial and highly relatable. An in-person barista workshop followed by a classic sampling campaign, this strategy set an excellent move in Instagram influencer marketing.
The brand took optimal advantage of Instagram stories during the exclusive workshops for real-time interaction with the audience. They also asked the influencers to produce recipes incorporating the newly launched coffee with their own twist.
The campaign was enormous, with over 650,000 impressions and 41,000 likes, and 212% more visibility than initially expected. 
Influencer(s) – Selena Gomez
USP of the Campaign: Leverage UGC through a contest. The brand created a campaign hashtag and encouraged the audience to develop Adidas content for a contest.
The Campaign: Adidas Neo partnered with the leading celebrity Selena Gomez to promote their Neo brand. The brand also urged its followers to spread the word about this campaign. Here, Adidas leveraged the campaign through a contest where followers were encouraged to use the #MyNeoShoot hashtag and create Adidas-inspired posts. The brand also invited top influencers for a professional photoshoot to go live on the brand's Instagram page. 
It was a mega-event, and by partnering with one renowned celebrity and putting in place the right campaign idea, Adidas gained 41,000 new followers and 71,000 mentions of their custom hashtag. This campaign navigated the best path to reach the target audience and amassed guaranteed hype by associating with a big name.
Influencer(s) – Kevin LaSean and Logan Paul
USP of the Campaign: Incorporated tech into UGC. The users tracked their runs in a particular shape and shared them for the contest. They rewarded a total of 50 winners.
The Campaign: It was a thought-provoking campaign by Old Spice that gave it a prominent presence on social media. They executed it to promote their Hardest Working Collection and came out with the Dream Runner campaign. The brand encouraged its followers to create running routes in the shape of something they would like to win. The brand used an app to track the run routes and highlight routes. Further, they shared it on the brand's Instagram page with the hashtag #runoldspice.
To give extra highlight to the event and make it widespread, Old Spice collaborated with health and wellness niche top influencers Kevin LaSean and Logan Paul. The event became vast, and the influencer videos' views garnered over 2 million views and counting. Later, the participants were awarded over 50 prizes. 
Influencer(s): Rebel Wilson
USP of the Campaign: 3 brands joined hands together for one campaign and targeted the same audience. The brands promoted each other on all 3 platforms and 10 winners won free dating advice from the influencer as part of the campaign.
The Campaign: Three brands collaborated to spread the word and targeted specific demographics (young adults). It all happened by bringing a celebrity influencer named Rebel Wilson on board. The campaign was an eclectic mix for young adults who use dating apps and food delivery services. A limited-time menu"Chipotle Cuffing Season Menu" was prepared that was only available on Uber Eats, seeking inspiration from Hinge dating habits and Chipotle's most popular dishes. This coordinated campaign by three popular brands gave a very thoughtful gift to their 10 lucky customers who took part — A chance to win dating advice from the hilarious celebrity and "How to Be Single" star, Rebel Wilson. 
As a result, all three brands got a high brand awareness. The campaign further skyrocketed after it went live on Wilson's Instagram account. It flooded the orders for Uber eats, and the target audience got the incentive to relish the limited-time menu.
Influencer(s): Mindy Kaling, Micro-influencers 
USP of the Campaign: The brand uses micro-influencers, with occasional celebrities, to create photogenic content for its products and branding. They also use a hashtag for increased awareness.
The Campaign: Hello Fresh always excels in presenting a vivid Instagram presence with attractive packaging, green box, and delectable pre-packaged ingredients. Hello Fresh uncovered the influencer marketing importance and pulled out a successful campaign partnering with actress and writer Mindy Kaling. The selected influencer was a mom of two and could relate to the brand's mission. 
Hello Fresh regularly collaborates with micro-influencers spanning across different fields for brand promotions. The brand used the hashtag #hellofreshpartner to track visibility. This marketing tactic drives more sign-ups and awareness.
Influencer(s): Travis Scott
USP of Campaign: Personalized products based on the influencer. McDonald's introduced a Travis Scott Meal and promoted it, allowing brands to eat like their favorite influencer.
The campaign: McDonald partnered with Astroworld star Travis Scott to promote a limited menu that incorporated his favorite picks. During the month-long deal, Scott ran a new line of merchandise under his label, Cactus Jack, that was inspired by McDonald's. 
The campaign unleashed eye-opening numbers and over 426 million impressions. It amplified McDonald's brand presence significantly and a significant hype on social media.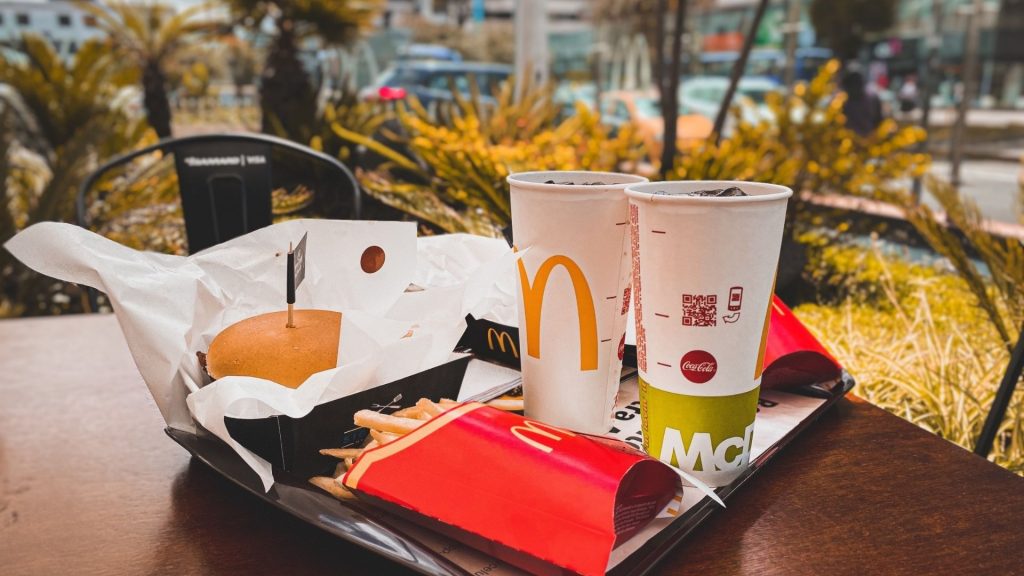 Influencer(s): Jonathan Van Ness
USP of the campaign: The brand opted for the perfect influencer to align with their brand values. The influencer's content was highly matchable with the brand's targeted audience, which organically spiked the brand on Instagram.
The campaign: The sustainable skincare brand went ahead by onboarding an influencer aligning with the brand's target audience. Popular TV personality Jonathan Van Ness promoted this brand organically by bringing his personal mix and approachable style to beauty. The influencer was a match made in heaven for the brand's Instagram influencer marketing campaign which resulted in an impressive ROI. 
Influencer(s): Many influencers
USP of the campaign: Instead of mass marketing, Daniel Wellington collaborates with fashion and lifestyle niche influencers to create indulgent content that works as word-of-mouth marketing.
The campaign: While talking about the successful influencer marketing campaign on Instagram, how can we miss Daniel Willington? Daniel Wellington took the route of word-of-mouth marketing instead of traditional advertising to reinforce brand presence. It mainly chose top influencers from the lifestyle and fashion niche. The Swedish watchmaker even set an example of leveraging a brand with an influencer's audience. 
Starting from a mere $15,000 startup, the brand earned a revenue of $220 million. In this successful influencer collaboration, the enticing images and right hashtags played a significant part.
Influencer(s): Celebrities like Shaquille O'Neal and Micro-Influencers 
USP of the campaign: The brand used different influencers, from celebrities to micro-influencers, and promoted rewards from different ranges using the hashtag #AmexAmbassadors.
The campaign: American Express has been incorporating out-of-the-box campaigns over the years. This brand unlocks so much with advertising and executes a fresh take. It makes American Express among the world's largest advertisers. With their #AmexAmbassadors campaign, the brand collaborated with famous influencer Shaquille O'Neal to niche micro-influencers. The promotion of their platinum cards brought a shift in perspective that you don't need influencer marketing only to sell physical products. 
Influencer(s): Natasha's Kitchen
USP of the campaign: 1 influencer for the entire campaign. 1 giveaway campaign. 1 reward.
The campaign: World Gourmet is a brand that deals in innovative kitchen appliances and countertops. They settled for a niche influencer Natasha from Natasha's Kitchen, and partnered with her on a giveaway. The prize of the giveaway was an expensive Wolf blender.
The contest ended up being a success with 14,000 entries, and the influencer exhibited her genuine reviews of the products on her blog. 
---
The Secret Roadmap To Success
With a fine mix of creativity and a strategic approach, you can unlock immense success with Instagram influencer marketing. All you need is the right influencer that aligns with your brand values and optimally uses the platform features. 
Ready to launch your influencer marketing campaign on Instagram?  Our AI-driven platform meticulously analyses all relevant data from social media platforms to identify creators who are not only popular but also genuinely influential. This data-driven approach allows the AI to match brands with influencers who have the potential to drive real impact. Sign up and start your influencer campaign for free on AtisfyReach