Many new entrants are vying for your attention, but good ol' Facebook still stands on firm ground. Roughly, there are 2.85 billion monthly active users on Facebook in the first quarter of 2021! And that why it's important to understand how Facebook marketing can boost your brand!
Facebook is a great place to reconnect with old friends and acquaintances, but that's not all! Just like your business, Facebook too has diversified. With such a massive number of users, Facebook holds enormous power to catapult your brand to new heights!
According to a survey by SalesForce, 85% of consumers research a brand before buying it. So you need to be available to consumers on a platform like Facebook.
In this blog, we embark on a fruitful journey to set you up for a robust presence on Facebook. Following our tips is all that you will ever need to increase your digital presence and up your reach.
---
1. Create A Customized Brand Page
Start by creating a customized business brand page. Currently, Facebook offers six types of pages. Choose the one that describes your brand the best. Each personalized profile includes features unique to the category.  For example, the "Brand or Product" category helps your brand list the different products or services you provide. So choose wisely. Remember to also add the call to action within your page as a link to your product site. Overall, this will help drive more invested traffic towards your site. 
2. Use A Personalized URL
Try to get a personalized URL as soon as your operations are up and running! This shortened URL containing your brand name can be used as a branded link. The branded URL can boost your SEO, which means Google and Facebook searches can generate more clicks. 
A personalized link will make your brand's page more accessible and easy to find. The personalized link makes you look incredibly professional. 
3. Customize Facebook Tabs
We all enjoy simple web pages that are easy to navigate, so how about adding some relevant and unique tabs to your Facebook page? You can customize and label one of the tabs as 'Services.' Under this tab, you can provide links to various services your business offers. Such specific tabs make your page more relevant and give it a neat look. 
A good example of customized tabs is BullyingUK's Facebook page. The page flows so nicely since it takes the user first to their 'About' tab, telling them their purpose explicitly. This provides users with a better consumer experience, making them interested in the brand and further boosts brand image!  
Figure 1: Example of a firm's Facebook page Tab. Source: Facebook
4. Change Post Formats
We all tend to get bored of the same thing showing up on the feed in a quest for exciting content. As a brand, switch it up with your post formats to stay unique. There are a variety of post types. If you notice that engagement on a picture post has decreased, start posting videos. Similarly, if videos seem not to be working, try informational blogs. A variety of content helps to cater to different groups within your audience base and can work wonders. By doing so, you may reach a whole new set of audiences. The idea is to keep your audience interested and engaged with your unique content.  
5. Use Facebook Messenger
Try to communicate with your audience using Facebook Messenger. Your brand can create a chatbot that answers your consumers' FAQs and understands their concerns. Who doesn't like a personalized experience? Each time a customer chats with the chatbox, they will receive answers immediately and feel connected to the brand. This will create a loyal consumer base. 
Messenger ads can also be used to market the brand as these tend to have high click-through rates and are inexpensive. The ads help increase brand awareness and create a more extensive audience base.
6. Create A Community
You can create your brand group using Facebook. Create a unique group for your brand to build a niche community of users who love to engage with your brand. Within this group, you can launch new products or services or provide tips on using your products. You can also research common questions users have about your brand and answer them on your page under FAQ. 
Influencers have aced Facebook Group Marketing, and brands could learn a thing or two from them!
Let's look at HBO's page on the series 'Big Little Lies,' where they upload sneak peeks of the upcoming episodes. The short clips help retain the current audience, build anticipation for future updates, and support HBO.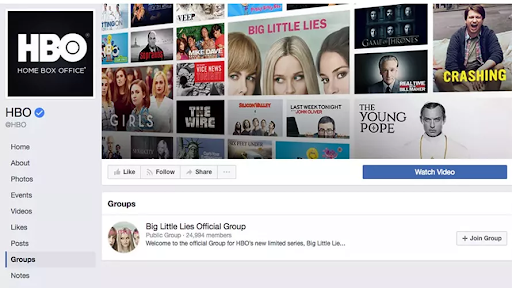 Figure 2: An example of HBO using its brand page. Source
7. Upload High-Quality Content
Do you not love the clarity of a 1080-pixel video? So do your consumers! Post unique and engaging cover pictures in high quality. Cover pictures give a glimpse of your brand's identity. For the appropriate resolutions, on your Facebook page, you can refer to the exact dimensions. Ensure that you use these precise dimensions to provide users with the best experience when viewing your content. 
This high-quality content showcases your brand's image, and the higher the quality, the more organized your brand looks. Users would want to engage with the brand's page more.
8. Post User-Generated Content 
To push for a larger audience base, incorporate user-generated content within your brand's Facebook page. This can be done by encouraging your audience and community to share videos of themselves using your services and products. You can then repost these videos on your brand's page. 
Think about how you would gravitate towards a brand with many good reviews. Similarly, this doubles up as consumer feedback for your brand's product. Hence, this increases brand credibility. As an added advantage, your audience feels included and connected with your brand. 
9. Utilize Videos And Go Live! 
Differentiate your page by posting unique video content. Facebook's algorithm prioritizes unique videos. To boost your page on the algorithm, post an engaging video with trendy captions. Such a video tends to be shown to users first. These come up on the 'Suggested' tab for users even outside your audience.
Another way is to go live! Live streaming is the biggest thing in 2021. It helps your brand connect better with your audience in real-time. Such streams help the brand engage with its audience as they tend to be suggested to users who do not follow your brand. Hence, audience reach and engagement increase. 
10. Engage In Influencer Marketing 
The best way to reach a large and established audience base is by engaging in influencer marketing. The strategy is to choose an influencer who matches your brand's niche. If your brand specializes in beauty products, using a beauty influencer would be more beneficial. Therefore, before partnering with an influencer, intensive research should be done on the type of content the influencer posts to see if it corresponds to the brand's image. Remember to choose an influencer with a positive image in the public's eye and maintain the brand reputation. 
The first step towards collaborating with an influencer is to reach out to them directly to collaborate. This can be done through their business emails or direct messages on their public account. Get to the point and present an offer.  
These collaborations raise brand awareness as the influencer's followers may become your consumers. Hence, such collaborations increase your consumer base and provide credibility to your brand! 
11. Cross-Promote Brand Page
You aim to increase traffic to your brand page. For this, users have to be aware that you have a Facebook page. To do so, you can promote it on other social media platforms like Instagram and Twitter. Allow users to share the posts from your page, as this can drive more consumers from other social media platforms to Facebook. 
Aside from social media platforms, promote your brand page on your official website and business cards. This micro targets your existing consumers to follow your brand's page. 
These strategies will increase audience reach and will drive increased traffic to your brand's page.
12. Post At Peak Times
You would have guessed that the Facebook algorithm plays a huge part in the success of your brand page. To use the algorithm to your advantage, use Facebook insights to monitor the time when your followers are online. The data also shows how well each post does during the different times in a day. Use this data to post your content during optimal times. However, these times may not apply to all. You can start by posting at different times to monitor how each post fares and adjust your posts to those timings. This will allow your posts to reach a larger audience and thus, increase engagement and reach on each post.
13. Track Your Audience's Activity 
Facebook has a unique feature that allows you to track your audience demographic. This is known as Audience Insight. It provides an overview of the type of your audience, for example, gender and age group. Secondly, it provides your audience's preferences, such as their interests. For example, whether they like sports or music. This allows you to improve your content and tweak it to your audience's liking. 
Who doesn't love personalized content? Similarly, your audience will feel valued if their preferences are taken into consideration. This forms a loyal consumer base for your brand. Here is a glimpse of what the audience's insight page looks like!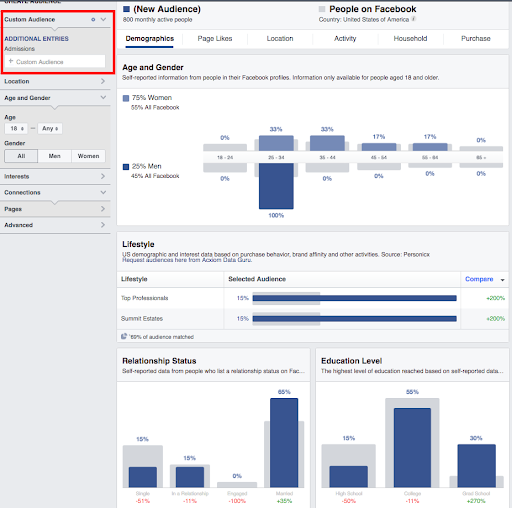 Figure 3: Facebook analytics insight. Source: Source. 
14. Buy Facebook Ads
Do not forget the traditional marketing method using ads. Buy Facebook ads that target your audience. The content of your ad should be specific to your audience type. Facebook has an inbuilt feature that rates your ad and its engagement. Therefore, it is recommended to tailor your ads according to the ratings attained. Try to post unique ads to ensure that users do not scroll past them. An effective way to do this could be to add sales or promotions in your ads. After all, we all love a good discount! Audience preferences change, so over time, monitor your ads to see if your audience still likes them.
When your audience enjoys your ads, they are enticed to visit your brand page to learn more about it, increasing your brand's awareness and consumer reach. 
15. Analyze Data
Our last tip is to use the Facebook insight page, another inbuilt feature in Facebook that analyzes your content. It includes post likes, follower engagement, and post reach, allowing your brand page to understand the type of content your audience likes. Hence, you can customize your content according to how it performs and what they want. Remember to track and analyze your content overtime to update with your audience's preferences.
Through this, ensure your audience does not leave! You will form a loyal consumer base for your brand. Here is an example of what the Facebook insight page looks like. 
Keep these tips handy – creating and managing your brand's Facebook page will become a cakewalk! Each tip, if used correctly, will strengthen your media branding. This will translate into increased sales for your brand! Some of these steps can be taken to get the best click-through rates to help your brand immensely.
---
We've already established that Facebook can be a marketing powerhouse for your brand, but let's make it easier for you. Atisfyreach, our AI-driven platform, is redefining the influencer marketing space by offering AI-driven solutions that automate the entire influencer marketing workflow. It's the easiest way to connect with influencers and run seamless campaigns – in just a click! 
Get in touch, and let us empower you to build an authentic connection with your audience.