YouTube has been steadily growing since its beginnings in 2005 to become the mammoth it is today. Even better yet, it is the most popular platform for creating video content and a terrific way for your company to market itself. 
This platform, without question, has enormous potential for social media marketing. Marketers and content creators have a plethora of options where YouTube is concerned. Just look at the data for the actual picture in this hyper-evolving world of social media-driven consumerism. 
Let's take a look at some essential YouTube data that will help you better grasp the platform's scale and its prominence in the digital marketing world. 
---
User Stats
YouTube has an average of 1.7 billion unique monthly visitors
The site gets 14.3 billion monthly hits – more than Facebook, Wikipedia, Amazon, and Instagram. More interesting is that people watch YouTube videos without signing into Google accounts, implying that the actual YouTube user base is actually much larger. It's tough to say, but it's feasible that a few million more could be added to that number.
The male to female YouTube user ratio is 54:46 
While there is no clearly outlined data on the gender statistics of YouTube, the platform itself believes that almost 50% of its audience is female. The gender disparity, in this case, is so mild that we can conclude that men and women are equally interested in watching videos. Most YouTube users watch videos from their favorite content creators.
62% of US users say they visit YouTube daily
According to Statista, some people visit many times each day. Meanwhile, 92% of American users claim to use the network weekly, with 98% using it monthly. Music videos are the most popular content on YouTube. People also watch vlogs, tutorials, beauty bloggers, and more. The percentage of US-based YouTube users is evenly spread across the various age groups. Here's a look at the data:
15-25 years: 77%

26-35 years: 77%

36-45 years: 73%

46-55 years: 70%

56+ years: 67%

The daily average watch time of users is 19 minutes 
An exciting study from Think With Google shows that 78% of people prefer watching videos on YouTube instead of cable TV or other platforms. Also, the study found that the younger generations enjoyed watching short-form content from influencers. Along with short videos, they also enjoy watching user-generated content from amateur creators.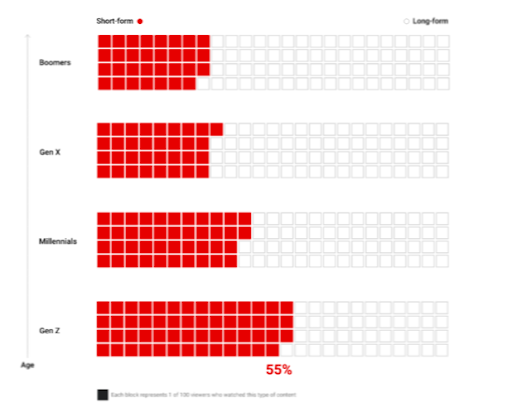 Figure 1: The younger generation prefers short, bite-sized videos. Source: ThinkWithGoogle
99% of users are also active on other social media platforms
According to a discovery by Hootsuite in its The Global State of Digital 2022 report, most YouTubers are also present on other networks including Facebook, Instagram, and Twitter. Only about 1% of users between the ages of 16 to 64 use YouTube exclusively.
Takeaways From YouTube User Statistics
In 2022, these YouTube subscriber figures could be pretty valuable to brands. When more than two billion people visit YouTube every month to view videos, it's clear that there's a vast and active market that can be accessed. No matter your ideal customer's age, gender, or era (Millennials, GenZ, Baby Boomers, etc.), they are more than likely to be on YouTube. Short videos are in demand on all major social media networks, and YouTube is no exception to the rule. The interest in short-form content, especially UGC, points to a generational shift in the way videos are viewed worldwide. Also, note that your fans may be following your brand on multiple social platforms. A good strategy will be to keep your content fresh by posting something new on each of them. 
Usage Stats
YouTube now ranks as the world's 2nd most viewed website
According to Alexa, YouTube is right behind Google as the world's second-largest search engine. It is also, after Google, the second most viewed website on the internet. Because the same parent company owns both sites, the infrastructure makes it simple for users to search for relevant content on Google and continue to YouTube.
720,000 hours of video is streamed each day
The average person could spend their whole life trying to watch all of the content uploaded to YouTube in a single day. YouTube users upload more than 500 hours of new video every minute, the company has reported in press events. This translates to 30,000 hours of new information per hour and 720,000 hours per day. When you divide 720,000 by the number of days in a year, you get 82.2 years of new videos published to YouTube per day. Now that's a lot!
81% of internet users have used YouTube
Statista conducted a survey that showed that 81% of internet users had used YouTube at least once. This means that most people are familiar with YouTube. Like Google, YouTube is now a synonym for the word "video" in everyday households. 
Figure 2: YouTube is familiar to most internet users Source: Statista
22% of YouTube users access the site from their mobile
Although mobile viewing accounts for much of YouTube's viewing time, many marketers still find it correlates to short, on-the-go sessions. Mobile is similar to TV when it comes to YouTube watching: most watch at home, during prime time, on horizontally oriented devices. 
Mobile users visit double the pages on YouTube than desktop users do
From January to March 2021, every time a person went on YouTube, they visited an average of 3.22 pages. Users entering the platform's website via mobile tended to visit more pages, resulting in an average of 4.63 pages per visit from mobile devices as of the beginning of 2021. The number of pages visited per session by people accessing the website from desktop devices dropped to 2.84. This shows how convenient it is to have YouTube at one's fingertips. Perhaps easy availability and navigation are the primary reasons people tend to auto-watch content on mobile. 
Takeaways From YouTube Usage Statistics
Firstly, everyone you're looking for is on YouTube. YouTube is popular among twenty and thirty-somethings who want to learn new skills, but it appeals to people of all ages. We suggest that you share informative content relevant to your business and be creative with it. For example, if you're a SaaS business, leading individuals through an A to Z of using your app is a terrific approach to provide value while showcasing your expertise.
Secondly, mobile takes a premium position. We spend more time on our phones now than in the past. As a result, the above YouTube statistics are unsurprising. You and your company can't afford to overlook mobile's enormous potential for increasing your brand's awareness. As a result, it's critical to keep up with mobile video trends so that your audience sees the content they want to watch. Even though YouTube is optimized for mobile by default, it's critical to understand how you can improve your audience's mobile experience. 
Business Stats
 92% of internet users watch videos online each week
Video has quickly become one of the most popular forms of online information. People use them to learn, teach, market, and more. Brands can use video content to win clients' trust, gain their loyalty, evoke their interest, spread the word, attract the attention of cold leads, and more.
1/3 of internet users has watched a tutorial or how-to video this week
Gen Z is particularly fond of how-to videos, tutorials, and instructive videos. 53.5% of female and 52.2% of male Gen Z internet users have watched a video in this category in the last week alone. How-to videos are among the most popular business trends and one of the most customizable forms of content for rapidly delivering information without requiring extra cognitive work. There's no need to read long manuals or listen to explanations on how to use a product or service or do something. People can learn more by viewing animated explainer clips or working alongside these videos.
30% of internet users say they watch at least one video live stream weekly
In the last year, live video has quickly become one of the most popular forms of internet entertainment, particularly on social media. Apart from YouTube, Facebook, Instagram, and other social media sites that support live streaming, certain live streaming specific services, such as Twitch, cater to viewers as well. While people enjoy live streams for many reasons (they allow them to witness raw, authentic footage; watch behind-the-scenes content from their favorite influencers; and participate in live Q&As with industry experts), marketers also find this medium helpful in increasing brand awareness.
India is YouTube's largest and most rapidly growing market
With significant increases in internet coverage and data growth, India has surpassed the United States as YouTube's biggest and fastest-growing market. There are more than 265 million Indian people that view the video-sharing website monthly.
Susan Wojcicki, CEO of YouTube, confirmed the news, saying, "India is now both our largest and one of our fastest-growing audiences in the world." In addition, more than 1,200 Indian creators now have one million followers, compared to only two creators with one million subscribers five years ago.
Figure 3: India is the largest market for YouTube as of January 2022. Source: Statista
YouTube has long been a source of entertainment, but it's now establishing itself as a crucial marketing tool. 55% of all marketers use YouTube in their marketing plan. 
Are you using it yet? Your target audience is present in some form on the platform, and YouTube may also help you enhance your SEO and overall brand presence as the internet's second-largest search engine. Marketers may use YouTube to present straightforward brand content to consume and share.
Takeaways From YouTube Business Statistics
As you can see, animated videos, explainer videos, and video marketing have a lot of power. You can explain your brand's story and roadmap in one or two-minute videos. Also, a captivating video ad on YouTube only takes about 30 seconds to pique a potential customer's interest. 
Your company can also host live Q&As for a more interesting and interactive take, or pay for live product demos from social media influencers. Businesses have even organized entire virtual events based on live streams, in addition to smaller Q&As and seminars. There are many creative possibilities for brands to connect and interact with their viewers when it comes to live video.
Ad Stats
YouTube ads have the potential to reach 2.56 billion users
YouTube has a potential audience of over 2 billion people – 32 percent of the world's population and 51 percent of all internet users. If you're interested in exploring a paid marketing strategy, YouTube is sure to have at least PART of your audience!.
YouTube is also one of the most budget-friendly ways to create a marketing campaign given the below metrics:
Average CPV: $0.026

Average view rate: 31.9%

Average view CTR: 0.514% 

Males aged 25-34 are YouTube's biggest advertising audience
The Hootsuite Global State of Digital 2022 report found that men use the platform more than women. Other data suggests that men are more interested in sports and gaming. However, women watch more videos on makeup and skincare. Interestingly, dogs and East Asian music help bridge the gender gap on the platform. 
Figure 4: Millennial males make the most significant demographic for YouTube advertising. Source: Hootsuite 
YouTube's global ad revenues were $28 billion in 2021
The ad industry on YouTube is a money-making dynamo. YouTube (and Google's) parent firm Alphabet made $8.63 billion in advertising revenue in Q4 2021, according to figures released by the company in December. Compared to Q4 2020, when the platform generated $6.89 billion in ad revenue, this statistic was up by 25%.
It's worth noting that this overall ad revenue figure of $28.84 billion excludes revenue from global subscribers to YouTube Music and YouTube Premium during the year.
YouTube Premium had roughly 20 million users till 2020
YouTube Premium members surpassed 50 million, according to Alphabet, in its quarterly results report released in October 2021. The nearly $600 million potential return from those sign-ups is just about 8% of YouTube's entire revenue, at $12 per month for a YouTube Premium subscription, including YouTube Music. Still, it brings YouTube's total revenue within striking distance of Netflix's most recent quarter's $7.4 billion. This data indicates that the primarily user-generated platform is a viable competitor in subscription-based streaming video services.
70% of viewers have made a purchase after seeing a brand on YouTube
According to Google, 70% of viewers have purchased from a brand after viewing it on YouTube. That demonstrates how effective it can be in increasing product and service conversions. It's all about getting your message in front of the right people and making a compelling advertisement.
One of the most surprising YouTube trends to emerge this year is that YouTube is now a go-to channel for online shoppers for all forms of shopping content. According to YouTube statistics for 2022, the following are some of the most popular shopping-related video categories:
Gift guides 

Hauls 

Product reviews 

Best-of lists

Product comparisons 

"Shop-With-Me"
Takeaways From YouTube Ad Statistics
There are significant benefits to advertising on YouTube, ranging from targeting and customization to measurability and price, but the most excellent feature is also the most basic: reach. 
With YouTube ads, you can expose your brand and products to people who might otherwise be unaware of them. YouTube Ads need continual tweaking and optimization to achieve the best results like any other advertising decision. However, if done right, your investment could be one of your best business decisions.
The storytelling process begins with understanding who sees what at a very fine level. You can always locate these users and target them, but it's an entirely new value proposition if you can target them from their perspective.
YouTube Marketing For 2022
YouTube is a serious marketing platform that allows your company to advertise content in an appealing and engaging manner.
It's crucial to use inbound marketing strategies to market your YouTube channel and videos. Create content that tells a story while also providing helpful information to your audience. Market that content via social media, email, and your company's blog or website, among other places. Include clear CTAs on end screens to optimize your content. Those are the fundamental steps to any good YouTube marketing strategy.
While the platform may appear intimidating initially, the technology it has makes sharing and digesting content a breeze. Your audience wants to learn, get entertained, and connect with your business through video, so make the most of it. Partnering with content creators on YouTube can give your content that extra push. 
---
Influencers can give your brand the same reach and connect it to a niche audience with less effort. They are skilled at delivering the audience's demands through raw content, live streams, short videos, and more. Atisfyreach's AI-driven algorithm matches brands with the ideal influencers based on the campaign's goals – whether it's an increase in brand awareness, more engagement, or boosting revenue at scale. 
Register your interest and be on the way with your YouTube marketing.