Social media marketing in 2022 makes for a more significant part of the pie for marketers worldwide. Ignorance isn't bliss because of the myriad of platforms and all they offer. Even if your company is already profitable, adjusting your marketing approach to include new content kinds and forms is still essential. Approximately half of the marketers who use multichannel marketing claim they always or nearly always meet their financial goals. Companies with high multichannel engagement generate around 6% more revenue annually than those with low multichannel engagement.
Expanding your content will ensure that you reach out to those in your target audience who have yet to be reached. While research shows that video is the king of content, many people still prefer long-form reading or browsing through images. This implies that any company wishing to boost interaction on social media platforms must have a broad content strategy. The social media marketing environment is constantly shifting, and each channel is also evolving.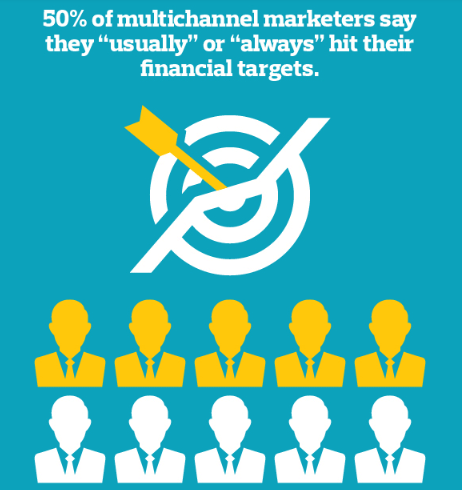 Figure 1: Half of the marketers say they usually hit their goals with multichannel marketing. Source: Invesp
Marketers must establish a presence across several routes, including the most recent social media platforms. This makes sense since each channel is constantly on its toes to make it more user-friendly and outperform its competitors. Brands must stay current and keep up with the changing landscapes. This is why marketers must use a variety of social media channels to distribute their information. This article brings you six powerful benefits of diversifying your channels.
---
Reasons To Diversify Social Media Channels
Avoid dependency on any single channel
The biggest issue with marketing on a single channel is losing customers when they switch to a new preferred channel. You can find and reach your leads on whichever channel they use, and you can move with them, thanks to multichannel marketing. Diversifying your marketing channels can reduce the risk of becoming reliant on a single marketing channel. It will help you adjust rapidly to any situation if unanticipated events arise. Use every channel relevant to your niche and brand to increase your visibility. You can, for example, use your blog posts to increase social media engagement. You can also inform your blog visitors about what's going on on social media simultaneously.
Protect yourself from unforeseen risks
Putting all your eggs in one basket, like with any investment, is risky. Marketing is an investment in the development of your brand. Any financial adviser will tell you that diversifying your marketing channels is an excellent way to reduce risk. Putting all of your money into one channel is not a good idea because social media platforms are continuously changing. By distributing your marketing spend over different channels, you may avoid wasting money on a platform that may fail in the future and future-proof your efforts. With a proper mix of channels, business owners may see a faster return on investment.
Engage existing customers while attracting new ones
It might be difficult for marketers to get their brand out there in a world when every kind of business is launching ads on every channel conceivable. It's more probable that potential buyers will notice your brand if you use multiple social media channels. The more frequently people see your content, the easier it will be for them to recognize and recall your name. Diversifying your business allows you to interact with current consumers while attracting new ones. You may draw and maintain target audiences' attention with compelling and engaging content and solutions.
Create multiple touchpoints with your audience
You may increase your organic reach by distributing your campaigns across multiple channels. This enables businesses to meet clients where they are. Moreover, consumers are more likely to choose brands with more digital touch points. According to McKinsey, European companies with more digital capabilities across channels convert sales 2.5 times faster than those with fewer touchpoints. Consumers' preferences for specific touchpoints vary depending on their demographics and where they are most active. 
Figure 2: Consumers select brands with multiple touchpoints. Source: Econsultancy
Diversifying content enables you to reach, engage, and interact with target audiences spread across many social media platforms. With the many channels available to your team, targeting certain clients from specific demographics and behaviors becomes much more manageable. Through their chosen channels —some may like Facebook, while others may favor Instagram, each of your leads will be more open to your brand.
Develop greater customer loyalty
Diversification may help you establish and sustain stronger client loyalty if you give helpful content across channels your consumers appreciate the most. Social media channels increasingly provide businesses with options to add shopping links to their content. Marketing experts say that customers who shop through multiple channels spend 13% more than those who don't. Those who shop through various channels have a 30% greater lifetime value than those who only shop through one channel.
Figure 3: Customers exposed to multiple channels show more loyalty to brands. Source: Invesp
Gain exposure and data from many different angles
You may expose your goods and services to many individuals by diversifying your marketing. They'll be curious about what you have to give or do as their interest and curiosity grows.
Furthermore, your consumers can be exposed to you anytime through many displays, such as a television, computer, or smartphone. By diversifying your presence, you may improve your brand's presence in all of the channels where your users are engaged. Also, as users see the same message from you on different social media platforms, it creates trust in the brand. 
5 Tips To Intelligently Diversify Content
Updates for holidays and special days should be planned ahead of time. Weekends and holidays are great opportunities to stand out. To keep the audience interested and connected, develop exciting competitions and updates. 

Make use of the platform's extra features to engage your audience. For example, you may use polls, quizzes, and even reels to engage, connect with, and entertain online users.

Use video content across all platforms

. Including videos frequently in your social media marketing campaign keeps your audience interested and delighted.

Utilizing user-generated content (UGC) is an excellent approach to diversity your content because it gives you something to share for free and helps you build your customer relationship.

Collaborate with influencers

, bloggers, and content creators to increase user trust, appeal to specific audiences, and increase engagement.
Don't Forgo The Fundamentals Of Social Media Sharing
While the above tips may provide you with ideas for playing and experimenting, don't forget about the foundations of social media sharing:
The 80/20 is still gold

  – You want at least 80% of your updates to be about something other than you or your business and just 20% (or less) to be about you or your products. This is how you can create a highly engaged audience that likes and trusts you enough to click on your links and possibly buy from you.

Scheduling is great, but being present is essential

– You can schedule updates for up to a year in advance, but keep it for holidays and weekends when you might not be able to publish anything. Nothing beats manual sharing and being present to respond to comments and DMs. 

Native content performs better

— Social media networks appreciate it when you develop native content instead of merely resharing it.

Repurposing content

is not everyone's strong suit.

So join in when you have the time to make polls, upload videos, conduct Q&A, and even go live. 
---
If potential clients don't spot your products, no matter how good your product or service is, it won't yield income. While you should always be bright and focus on the channels that provide the best return on investment, having multiple marketing streams can help your company be agile enough to weather any unexpected developments. Besides boosting your engagement and traffic, diversifying your social media channels has many advantages. It enables you to find additional promotional possibilities, develop new content ideas for your website, collect more engagement data for ad targeting, and better understand your target audience.
Diversify your social media channel and give your brand global visibility with influencer collaborations through Atisfyreach. Atisfyreach's AI-driven platform accelerates the entire influencer marketing journey beyond your expectations, optimizing your time, resources, and budgets efficiently.