Did you know Instagram carousels can increase your engagement rate to over 2%? You're losing out a lot if you aren't capitalizing on IG carousels yet, as carousels are a powerful feature. They outperform other content types with their 1.92% engagement rate per post compared to 1.45% of videos and 1.74% of images.
Thanks to Instagram carousels, now you can refine storytelling and get higher engagement by uploading up to 10 images or videos in a single Instagram post.
Let's learn why Instagram carousel posts are compelling and ten distinctive ways to utilize carousels in this blog — don't miss the bonus at the end!
---
Are Carousel Posts Engaging?
Figure 1: Instagram carousels. Source: Emplifi
Instagram has become a revolutionary social media platform; it is anything but a photo-sharing app today. Equipped with various marketing features, it is many brands' go-to platform to advertise their services/products, create lasting connections with the audience, and gain visibility and credibility. And the advent of riveting features like Reels and Carousels further makes Instagram a marketing-friendly channel.
Carousels, specifically, is an incredible tool for marketers on Instagram. They allow users to frame content in a digestible manner. Since there are more images in a carousel post, people can't quickly swipe up or overlook a carousel. They must stop watching the post until the end to understand the entire story. And if your first image is fascinating enough, the audience will likely stop scrolling and spend more time engaging with your carousel posts.
Follow These 5 Practices To Ace Your Instagram Carousel Game 
Keep it short and sweet:

The thumb rule for creating engaging carousels is to make them brief, crisp, and informative. Though users should take home a new lesson from your Instagram carousels, the latter should never be too overwhelming to read — avoid information overload. Share the latest knowledge in the most easy-to-understand, bize-sized way. 

First image = best image:

Remember, Instagram is fast-paced, and users rarely spend time on posts that don't pique their interest at first glance. So, if you want them to swipe till the end, let your first image be the scroll-stopper.

Apart from an

attention-grabbing image

, add a catchy headline to let the audience understand the theme of your post. 

Ignite curiosity:

Even if you've driven attention through the first image, you need to keep users' interest alive so that they keep scrolling. Encourage them to keep scrolling and ask questions that resonate with them. They'd stick till the end in the quest for an answer.

Offer value on every slide:

A fundamental rule of creating a helpful carousel is to offer value on every slide. Although slides are a part of one post, ensure each slide can stand alone and is informative.

Don't sacrifice cohesion:

Top-notch carousel posts look put together in content and visual appearance. All slides should have a similar font, color theme, and aesthetics.
9 Creative Ways To Include Instagram Carousels In Your Brand's Strategies In 2022
1. Promote a product
Figure 2: Gucci promoting its products using Instagram carousels. Source: Gucci
Carousels are the best way to showcase your products from different angles. Gucci recently collaborated with Adidas and launched shoes' insoles and laces. The brand used carousels to highlight the different products that are a part of the Gucci-Adidas collection.
You can use carousels to highlight one product's benefits or showcase various newly launched products in the same post. Adding videos of how to use your product and its results will make your carousels even more impactful — the audience would be more convinced to buy your products when they fully understand them.
2. Curate photo dumps
Figure 3: BBC Food's photo dump of delicious summer recipes. Source: BBC Food
The photo-dump trend is taking the IG world by storm! Many brands are hopping on this trend, which is dominating carousels due to its album-style swipe format. While some brands are 'dumping' photos of their brand events in a single carousel post, others are showing the highlights of their month.
The photo-dump carousels are trending because they offer a chance to showcase a business's authentic, "unedited," and raw side. Since the photos aren't perfect or hyper-edited, photo dumps are incredibly relatable. Besides, they are an intelligent visibility tactic, as different slides can surface on the users' home feeds multiple times.
Pro tip: Though photo dumps are a group of random photos, strategically placing all pictures generates higher engagement. 
3. Before and after reveal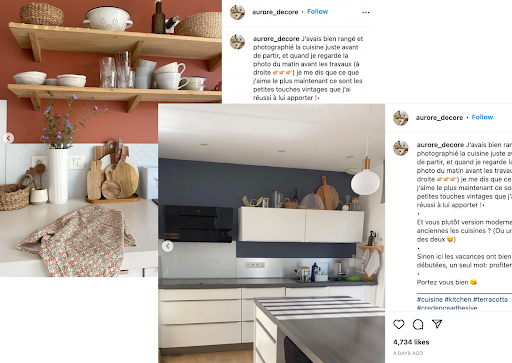 Figure 4: Example of a before-after carousel. Source: Aurore Decore
Another swipe-worthy post is the before-and-after carousels. These carousels excite the users and compel them to keep swiping for an incredible transformation. Many fitness and makeup brands often use such carousels to highlight the real-life impact of their products, which drives sales. However, blogger Aurore creatively used the before-after carousel to show her transformed kitchen.
Interestingly, these carousels increase visibility. Since they get more likes and comments, the IG algorithm recognizes their high engagement and further promotes them. Consequently, they are shown to a broader audience and keep snowballing into popularity.
4. Invest in brand storytelling
Figure 5: Blush shares stories of the brand's designers. Source: Blush
Sharing the brand story is one of the best ways to create a stronger connection with your target audience and retain customers. Stories humanize your brand and make you relatable. An authentic brand story also casts light on your brand's foundation. Therefore, communicating your brand story is imperative. 
Carousels are one of the best ways to narrate your story seamlessly. First, the graphics and stylistic font ensure your story doesn't bore your audience and encourages them to keep reading. You can even add ten different images showing your brand's evolution and the progress you've made till now. Furthermore, you can upload more carousel posts introducing your brand's position holders.
5. Showcase customer reviews
Figure 6: A fitness center leveraged testimonial carousel. Source: 3 Form Fitness
Checking reviews and testimonials online before purchasing has become typical customer behavior. Positive reviews and five stars boost customers' trust in your brand and push them further down the sales pipelines. These reviews are more believable, as it is the daily users praising your brand, not you.
Carousels are the way to go if you want to flaunt your positive reviews on social media! You can solicit feedback from your customers and curate them using carousels. But make sure to choose the right design to drive attention and keep the overall aesthetics of your IG profile intact.
6. Step-by-step guides or tutorials
Figure 7: Clothing brand Kotn shared an informative how-to carousel. Source: Kotn
Most brands share step-by-step guides about how to use their products properly. These guides are even more helpful regarding fragile products or products we don't use daily. Additionally, potentially dangerous products, such as electronic items, require a usage and maintenance guide.
Engaging carousels are the best medium to share how-to tutorials and help your audience efficiently use your products to get the best results.
7. Recaps/throwbacks/BTS (Show your casual side)
Figure 8: A media production company shares a behind-the-scenes carousel. Source: Timberwolf Films
While maintaining a professional image on social media platforms has benefits, modern customers are more engaged with fun brands. We recommend having a balanced identity to engage the buyers and be a thought leader. To drive more engagement, though, upload more exciting and fun content.
Recaps, throwbacks, and behind-the-scenes are the best ways to show the casual side of your business. Share carousels of your office selfies, BTS of a project, or event throwback to better connect with your audience and solicit likes, comments, and shares. 
8. Show off your UGC
Figure 9: Go Pro's UGC carousel. Source: Go Pro
User-generated content is one of the best ways to boost credibility without blowing your horns of self-praises! After a purchase, many customers share reviews or unboxing videos on social media channels. This is called user-generated content that customers post without any prompts. UGC drives sales and strengthens a sense of community.
If your brand produces UGC in abundance, carousels are the way to flaunt it in one single post. Curate a visually appealing carousel with pictures of your customers' content as an acknowledgment of their efforts and to build trust.
9. Use Instagram carousel ads
Did you know carousel ads can increase your website traffic tenfold? Facebook and Instagram carousel ads are the best way to get more exposure and share creative content based on your products in a single post. These ads improve the chances of conversion since they can appear multiple times on users' screens. 
Besides, carousel posts are great for initiating interaction with the target audience. Nonetheless, the key to yielding results is high-quality content. Ensure your ad copy and images are on point, and you'll drive traction.
Bonus! How To Remove A Single Image From A Carousel Post On Instagram
We often make blunders on social media while uploading new posts. Thankfully, you can atone for your carousel mistakes! If you uploaded a wrong image or video in your carousel post, you can easily remove that image without deleting the entire carousel. Here's how to do it.
Go to the post you want to remove the image from on your profile.

Click the three-dot menu at the top right of the post.

Tap Edit from the list of options.

Now, swipe to the image you want to delete and press the trash icon on the top left corner.

Click "Delete".
You're done!
---
Hire Influencers To Create Appealing Carousels Featuring Your Products!
Social media influencers create content almost daily. Therefore, they are experts at designing aesthetically pleasing carousels that the audience loves. They even write the best captions that resonate with the audience. Besides, this influencer-generated content gets the most attention since influencers have a wider reach. More importantly, influencers positively impact their audience's purchasing decisions through compelling content. 
So, collaborate with top-notch influencers and let them create Instagram-worthy carousels for your brand. Register at Atisfyreach, our AI-based influencer marketing platform, connecting brands with experienced influencers. 
Visit our website to learn more or sign-up today.