Instagram has leaned into the demand for bite-size videos by introducing Reels, a feature that has its own dedicated tab on the app! However, you may be unsure if Instagram Reels will work well in your marketing strategy. After all, you've already put in a lot of work to market your business online. You've built a website, set up social media profiles, and invested in digital advertising. Adding a new type of content to the mix might seem like a chore. 
However, Instagram Reels offer a unique way to increase your reach and engagement practically unmatched by any other kind of branding, making it well worth your time and effort. This guide to Instagram Reels will get you more at ease with the trend. You can learn how to use it best for your brand – including tips on mistakes to avoid while making them. 
---
3 Major Reasons To Jump On The Reels Bandwagon
The primary goal of your social media efforts is to ensure that users are aware of your brand and engage with you online. Businesses have to adjust to the changing landscape and smartly navigate the new community interaction opportunities. Let's take a look at a few ways in which Reels can factor into your marketing goals: 
Quickly educating the audience
A well-informed customer is more engaged and likely to purchase than a fake follower. Reels are an ideal medium for attracting your audience's attention and delivering your message precisely. They are simple to create and in line with consumers who want original content, which presents both an opportunity and a challenge for marketers.
Showcase your brand personality
Brands that use social media effectively develop a genuine voice that resonates with their target audience. They establish similar values as their customers and invite prospects to join a community with shared values. Reels can let brands exhibit a lighter and casual side of themselves in addition to a curated Instagram feed. 
Creatively differentiate your brand from the competition
People cite Instagram as one of the best places to express themselves and indulge their interests. They also feel that advertisers on Instagram are trendy, innovative, relevant, and entertaining. Instagram Reels marketing is your chance to capitalize on this new excitement by using innovative video techniques to demonstrate your point of difference in action. Whether it's through unique ideas, weekly specials, or community involvement, you can also take your fans behind the scenes of your company. 
Best Instagram Reels Marketing Strategies To Leverage In 2022
Involve them in your process with behind the scenes Reels
Audiences are interested in behind the scenes (BTS) videos because they allow them to glimpse another side of businesses or content creators. Bloopers or "the making of" videos make for a good BTS Reel Video. Give them a peek into your day-to-day work life. These Reels are great for introducing your team and putting faces to the brand name.
Show progress through before and after Reels
Instagram Reels, and before and after videos, are addictive because of the instant gratification aspect. In just 30 seconds, viewers can watch an entire process unfold. Many businesses, such as dog groomers, cleaners, interior designers, hairdressers, artists, and other similar businesses, are excellent fits for before and after videos. 
Intrigue and satisfaction are a winning combo for creating great Instagram Reels, and will undoubtedly improve interaction. Try using a before and after video to display the transformation your service or product offers for your audience.
Exclusivity through Reels-only sneak peeks
Short, engaging snippets keep people coming back for more, especially if your Reels offer something that can't be seen elsewhere. The more exclusive your Reel content is, the more incentive your viewers will have to keep watching. Identify influencers who would be interested in representing your product and collaborate with them to create an Instagram Reel sneak peek video. As long as it is relevant to your promotional campaign, you can also host a giveaway with some specific conditions for the audience.
One of the easiest ways to create engaging, relevant content is to share exclusive tips. Make sure your suggestions align with your brand and include your products organically within content that addresses a problem your audience faces. You may give a number of quick pointers, one big tip, or a sneak peek at a lengthier video to come. 
Also consider the keywords you use in your blog articles, customer queries, FAQs, and other videos that have done well in your social media marketing. You'll be surprised at how much content you can generate just by responding to your consumers' queries daily.
Appoint users as creators through UGC
The ability to engage with one's followers is one of the best offerings of Instagram Reels. Businesses can leverage this to engage with loyal customers and form meaningful connections. Furthermore, posting user-generated content (UGC) on your profile boosts the credibility of your product. This is also a way to make it easier for your loyal customers to share their product reviews with current and potential consumers. Before publishing other people's content on your profile, make sure to get their permission. Brands like Sephora thrive at using UGC to promote their products.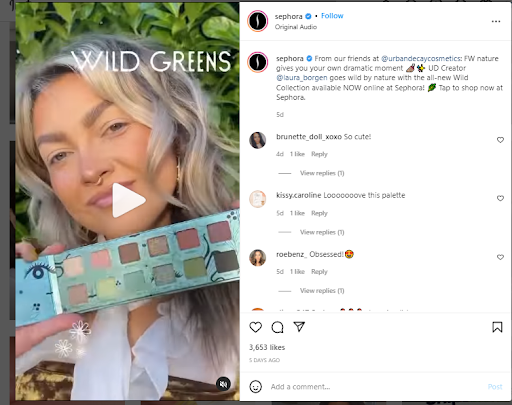 Figure 1: Sephora shares UGC reel videos to promote their products. Source: Instagram 
Re-share evergreen content from all platforms
Make a note of any popular video posts as you scroll back over your grid. Experiment with additional platforms, such as TikTok, Facebook, and YouTube. Check your analytics and re-share your best posts to Reels. Repurposing material is an excellent approach to introducing a brand to new followers and providing a quick review of earlier content that your audience may not have seen before. 
Bonus Tip: Avoid These Mistakes With Instagram Reels Marketing
Sharing blurry videos

Providing irrelevant information that doesn't educate, engage or entertain.

Forgetting to add background music

Not crediting the original creator before re-sharing 

Copying irrelevant Instagram trends that don't align with your brand voice

Only posting Reels and forgetting that images, carousels, Stories, IGTV, and more should be in your content mix too

Deleting a Reel that didn't immediately perform well 

Forgetting to add a CTA screen in the video
---
Reel Them In!
The most popular content on social media tends to be fun and cheeky! Draw in your audience with Instagram Reels that showcase your fun, creative side while also giving away a great story about your brand. Keep it simple, entertaining, and brand-specific to give it the most appeal. Influencers are masters of creating Reels on Instagram. Collaborate with them to help you stand out to your customers. 
Your quest to find the best influencers for your brand on Instagram doesn't have to be a challenging task. Atisfyreach's AI-based platform can connect you with influencers in your industry based on your preferences.
Register with Atisfyreach to get started.