As reputable brands, we are often so fixated on creating new content that we rarely take inventory of the valuable content we have already published. Repurposing or recycling valuable content on social media is the easiest way to tap into new audiences and maintain an authoritative social media presence.
In the words of Bill Gates, "Content is king." Consistently producing high-quality content that offers value is crucial to building a lasting relationship with your customers, attracting new leads, and boosting visibility. Unfortunately, finding exciting content topics regularly is challenging and time-consuming. Does that mean you churn out worthless content or don't create content? Not at all! Thanks to repurposed content, you can now consistently upload valuable content quickly and simply.
---
What Is Content Repurposing?
Repurposing content is simply extracting valuable information from an existing content piece and re-publishing it in a new format. Repurposing is not plagiarism — since it isn't merely copy-pasting and reposting. A lot of thought goes into repurposing content to create a helpful social post. You have to creatively transform content to retain its essence and integrate it with other social media posts on your profile. 
Interestingly, many big brands also resort to content repurpose marketing. For instance, Nike repurposed its project called Breaking2. The project aimed to break the 2-hour marathon barrier. Though Nike didn't achieve this, the project generated valuable content, which Nike repurposed in various formats.
Figure 1: Nike's Breaking2 event. Source: Wired
The event was live-streamed across Twitter, YouTube, and Facebook, receiving over 13.1 million views. At the project's completion, Nike collaborated with National Geographic to produce a documentary about the event that received 1.8 million views. Nike even created blog posts on its website sharing details about the location, results, and winners. Finally, they partnered with Runner's World, a popular monthly magazine, which produced articles, videos, and podcasts about the event — they really went above and beyond!
Top 3 Benefits Of Repurposing Content
1. Good for SEO
Repurposing content to boost SEO may seem counterintuitive since search engine crawlers detect plagiarism. But repurposing is not plagiarism — as we mentioned before. Therefore, repurposed content has equal or even higher chances of ranking on the first search engine result page, as does a fresh content piece. 
When you reuse an older write-up, you have a better opportunity to attract search engine crawlers' attention by optimizing your repurposed content. You can include more backlinks and keywords, helping the underperforming piece reach its full potential and get more traffic.
2. Wider audience to target
You can get extended outreach through repurposed content since you're capitalizing on various formats. You can repurpose content including infographics, eBooks, presentations, blog posts, podcasts, and social media posts. Therefore, there is a higher possibility of enhanced visibility provided you stick to relevant content topics your audience is interested in. 
Figure 2: A content piece can be repurposed in multiple ways. Source: Render Forest  
Text-heavy content, such as e-books and blogs, will attract avid readers. Whereas graphical content, like infographics and videos, will catch the eyeballs of the younger audience. On the other hand, potential customers with an on-the-go lifestyle can benefit from your podcasts.
3. Increased conversion rates
Repurposed content also offers you the advantage of increased conversions — no wonder brands often pay for content repurposing services! When you reuse the content in varied formats, it drives interest and reaches a broader audience. Therefore, your content's shareability further increases, which improves brand awareness.
This brand awareness helps you stay on top of the mind of your customers. So, they prefer to purchase your product/service whenever the need arises. As a result, your conversion rate surges.
What Content Can You Repurpose?
1. Evergreen content
As the term implies, evergreen content is content with perennial relevance. This type of lasting and sustainable content is repurpose-worthy. Contrary to news articles, current trends, statistics, inspirational content, how-to's, and listicles are often evergreen. You can identify evergreen content through their keywords' search volume, which should be at least 1000 per month.
Figure 3: Search volume trends in Google Keyword Planner. Source: Wordstream
2. Popular content
Repurpose content pieces on your website with high popularity. Google Analytics can help you identify your top-performing content over the past months or years. The report will also offer important insights, such as unique pageviews, average time on page, page value, and bounce rate.
Figure 4: Popular Pages in Google Analytics. Source: Greg Cruce
3. Content you can expand on
Apart from evergreen and popular content, determine your content pieces with room for improvement. Identify their loopholes, make corrections, and re-publish. If the article is data-heavy, update the statistics, and incorporate recent advancements to get an outstanding response.
7 Incredible Ideas To Repurpose Content
1. Repurpose white papers into infographics
Figure 5: An infographic of an infographic. Source: KT Alberta
Repurposing whitepapers packed with data into a digestible, bite-sized infographic is a fantastic way to pique interest. Infographics transform the complex information written on whitepapers into easy-to-understand insights. 
The ideal method to repurpose white papers into infographics is to pick a specific direction and maintain the focus throughout. Exclude all excess information and irrelevant points and place the compelling data first, followed by lesser precise details. Ensure your infographic is accurate and meaningful. Lastly, avoid adding abstract design elements to prevent visual clutter. You can use free software to repurpose content, like Canva, to create appealing infographics.
2. Repurpose webinars into social media content
Webinars are value-packed sessions that last for an hour or so. There are so many ways you can repurpose them, making them fit for social media. Many companies upload the entire webinar on YouTube for the audience to watch whenever they find the time — higher views generate higher revenue.
To upload a webinar on social media:
Slice it into smaller 60-second clips.

Ensure these clips include the most enticing section of the webinar.

Upload this clip as an Instagram Reel or TikTok video.
The content repurposed for TikTok has a higher chance of enhanced engagement since TikTok has over 80 million active monthly users. Likewise, with its 1 billion monthly active users, Instagram can offer better visibility. 
3. Repurpose Tweets into IG posts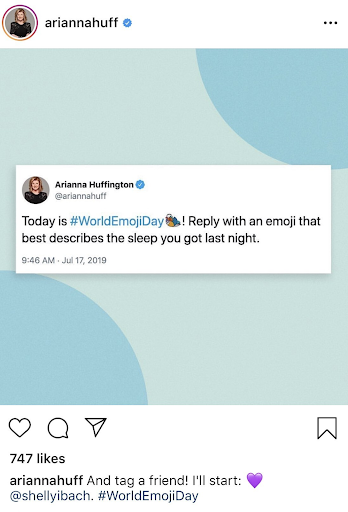 Figure 6: A Tweet repurposed into an IG post. Arianna Huffington
Repurposing Tweets into Instagram posts is a common tactic most brands use to engage with their audience. Be it your tweet or your customers'; you can upload and encourage your audience to share their thoughts on the same. 
Specific Tweets also work as great stand-alone quotes or one-liners. Copy the section and reuse it on Instagram, Facebook, or Pinterest. But remember, blurry screenshots will only taint your reputation. You have to go the extra mile to edit the quote into an aesthetically appealing, Instagram-worthy post.
4. Cross-post live streams
Livestreams are a crucial element of today's digital world. Twitch is one of the most popular on-demand live video platforms, with over 140 million active monthly users. If your company often conducts live streams, you can easily repurpose them into engaging content and get likes and comments! 
Upload the live stream on YouTube, as many brands do, or extract an alluring part and convert it into a short clip. Upload this on your Instagram or Facebook profile. You can even publish a blog based on the live stream's topic and embed the video to receive more traffic. 
5. Short video highlights of video content
Almost 78% of internet users view online videos per week. Considering the increased video consumption, many brands are investing in video marketing. If you also create engaging video content, you can share social media teasers based on your content pillar for an increased reach.
Uploading valuable repurposed content as Instagram Reels has a higher probability of performing well since Instagram users spend around 53 minutes per session daily on reels. Only 60-second long engaging videos can grab attention in the world of shortened attention span.
6. Repurpose blogs into podcasts
Over 80 million Americans listen to podcasts per week. Podcasts are an incredible source of learning for people with busy schedules. They are multitask-friendly and easier to digest. Most importantly, podcasts are available for free on platforms like Apple Podcast and Spotify.
Therefore, there are chances of higher visibility when you repurpose your blogs into podcasts. So, find a popular or evergreen blog post and transform it into a script you can read while recording the podcast. Invest in a decent audio system for a high-quality podcast. Record your script, intro, and outro. You can even add background music to the podcast to retain more listeners.
7. Repurpose testimonials into social media content
Today, social media guides people's purchasing decisions. And almost all customers assess a brand by its social media presence. Therefore, adding testimonials and positive reviews to your social profile will boost customers' confidence in your brand, gently nudging them to make the purchase. 
In addition, testimonials boost relationships with the buyers. It is a subtle way of showing you care about them and their opinions. This fact is highlighted through your repurposed testimonials on social media, further strengthening people's emotional connection with you.
---
There is no doubt that content repurposing can streamline the process of content creation, helping you upload new posts even when you lack fresh content ideas. Uploading repurposed content will enhance your social media consistency. Consequently, influencers will chase you for collaborations and further spread the word about your products/services. 
If you find it hard to reach out to influencers manually, we have you covered! Our AI-based influencer marketing platform can help you automatically connect with influencers, ready to increase your sales — all you need to do is sign up with Atisfyreach. 
Register today and meet your ideal content creators quickly and effortlessly!