Social media dictates how we interact with pop culture. Well, it is pop culture!   Pop culture has moved into online areas in various ways, including memes, current topics, and fandom networks.  To be relevant and connected to their audience, brands attempt to keep up with current trends and cultural shifts in the social space. But is that enough? 
According to the Magna/IPG/Twitter study, 47% of respondents said social movements and issues are highly significant. In addition, 38% believe that businesses' engagement in pop-cultural movements and societal concerns was significant, if not vital. The respondents most concerned about companies' engagement in those issues were between the ages of 18 and 35, and the majority of them used Twitter.
The conclusion from these data is that brands should sound contemporary and be current. If companies genuinely want to demonstrate their understanding of customers, they should consider the issues and concerns significant to them. 
This article discusses why and how brands should infuse pop culture into their content to stand out to their consumers.\
---
7 Reasons Why You Should Include Pop Culture In Your Marketing Strategy
Increase the exposure and reach of your brand 
Trends are ever-present on social media, thanks to pop culture's dominance. Brands can create relatable content that attracts traffic and get people talking. 
People on social media want to see content relevant to them and their interests. Injecting personality into your content is the most effective way to show the people behind your brand.
Relevancy is determined by the audience you're attempting to attract. Pop culture will always be popular among individuals of all ages and backgrounds, regardless of demographic. At this point, if you are looking to market to Genz, then lead with pop culture. 
Customers will always gravitate toward brands that they feel they have something in common with.  As a result, including relevant content in your brand's social media strategy might ignite the audience's attention, attract a wider base and establish connections. 
Using pop culture in your social media strategy is a fun and engaging approach to getting people interested in your company. You can rely on trending memes and topics whether you're having difficulties coming up with content ideas or want to reach a wider audience. You can repurpose trends to make a point about your subjects.
How To Include Pop Culture Into Your Marketing Strategy?
Use images and videos as memes

 
Because of the fast pace of the internet, certain memes are not destined to become viral, but new memes are constantly being sent out. Pop culture is being harnessed in more ways than just meme accounts and fan pages. Brands and organizations of all sizes and across all sectors can have a say. This provides marketers with yet another opportunity to engage with customers by using content that they love binging. 
Figure 1: Chipotle is a brand thriving in pop culture. Source: Instagram
Chipotle has a flair for creativity in all its communication. They are masters of everything from TikTok videos to Instagram memes. This specific meme is fantastic on a whole new level. So, what is so unique about this meme?  Several elements come into play, beginning with how they used a few emojis to create a meme out of their product. It tells us that you don't have to rely on an outside image when you can effectively highlight your own product.
The text of the meme is also very cool. Most importantly, it sends a strong message to their target audience: Chipotle can be enjoyed even if you're broke, so there's something for everyone!
Include trending audios in your reel
Using popular soundbites in your videos is a low-effort, high-reward strategy. The best aspect of this strategy is that you can always find snippets from famous movies and television series to use. You may find viral videos trending online with only one scroll on TikTok or Reels. And because they're trending, the algorithm will favor your content because it's part of your video!
Give your take on popular tweets
When brands mix things up on Twitter, everyone enjoys it. Twitter is the ideal place for some brands to let their hair down and revel in pop culture. It's here that you can truly express your brand's individuality and voice. It's simple to join in on a pop-cultural moment by posting a Tweet to your Instagram grid. Another strategy is to express your viewpoint through viral tweets and encourage your followers to do the same.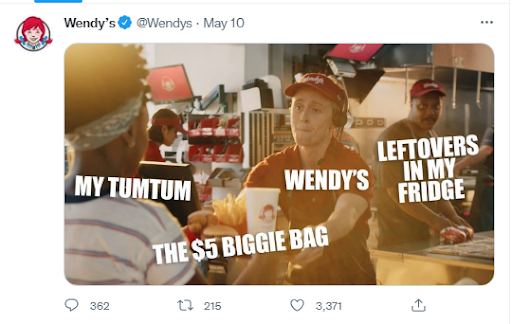 Figure 2: Wendy's tweets are full of humor and sarcasm. Source: Twitter
Wendy's has a great sense of humor. It's only natural that a fast-food restaurant would welcome lighthearted banter and silly jokes on its social media profiles. The company's smart one-liners, brilliant photo updates, and amusing comebacks are an audience favorite on Twitter, where @Wendys truly shines.
Don't forget the Gen-Z lingo!
GenZ lingo is a surefire way to get and keep people's attention in a community that thrives on pop culture trends. For these zoomers, memes are like a love language. They value a company that can keep up with the newest meme trends and, more crucially, understands the meme-verse. It's time to talk to your audience in their own language if you want to be current and relatable. The Gen Z lingo is entertaining, lively, and contemporary. Incorporate some current and trendy lingos into your content to connect with the young audience. 
Figure 3: Coca Cola's ad is spot on with the GenZ lingo. Source: Youtube 
The "Drink What Your Mama Gave Ya" commercial for Diet Coke begins with two high school students in a cafeteria. "A Diet Coke?" sneers one as the other takes out a Diet Coke. "Who are you, my mom?" says the other. The commercial continues with highly stylized views of moms doing what only moms can do.  "Everything you're attempting to achieve, she's already done, did it better, and she did it with a Diet Coke in her hand," the commercial concludes.  This commercial is incredibly watchable because of its retro mood and synth-driven soundtrack. It also applies all the best promotional elements for GenZ. 
Join the hype and get creative
Trends come and go. And brands must pay attention to hop into a trend when it's hot and fresh. Make content that revolves around these ongoing discussions. For Example, Squid games memes, Taylor swift's all too well, and more. Tapping into cultural obsessions can help amplify brands' presence and audience. Brands take advantage of the wildfires of social media and collaborations to grow demand for their products. Whether it is organizing product drops or sneak peek events or unboxing events with top influencers, there is a lot that brands can do during trend waves. 
---
Pop It With Influencers!
Incorporating pop culture into your marketing plan successfully involves doing it in a way that is still relevant to your company and brand.
It also means you'll have to stay on top of current events. On all social media networks, including TikTok, you'll need to become familiar with the hottest buzzwords, binge-worthy TV episodes, and current subjects. 
Also, be prepared to respond quickly. Many pop-culture trends appear out of nowhere and go away just as quickly. It may appear overwhelming, but all the cool brands are doing it. 
Influencers can help you reach your customers in relevant and fun ways. However, finding these masters of content creation specific to your brand's needs can be a task. But not to worry! With Atisfyreach, you can get access to influencers from your industry and collaborate with them to reach your goals. Escape the tedious parts of influencer marketing, and have fun marketing your brand.