In 2023, using Instagram for your SaaS company's marketing can propel your business to new heights. With a user base of over 2 billion active monthly users, a strong presence on the platform is essential. This blog will uncover the top SaaS growth hacks and tactics to enhance your Instagram marketing strategy this year. From producing compelling content to using Instagram Stories and sponsored posts, these tips will help increase your brand's reach and drive more sales. 
Whether you're just starting or looking to take your marketing efforts to the next level, this guide is a must-read for all SaaS owners seeking to maximize their Instagram marketing success in 2023.
---
Why Use Social Media Marketing As A B2B SaaS Brand?
You may find that your competitors are increasing daily, and your B2B SaaS business is nowhere on the map. The saturation of technology and information makes it easy for SaaS brands to get lost in the mix. On the other hand, marketing can be an expensive endeavor, with paid ads, tracking CTRs, and testing keywords all adding up.
Thankfully, social media marketing presents a cost-effective solution for SaaS brands to reach an audience. Not just that, by using social media, you can market, educate, create awareness, and get leads through a single channel. 
You can share blog pieces and explainer videos and interact with fans through groups to redirect traffic to your website and build trust in your industry.
According to IDG, 84% of C-level and VP-level buyers are influenced by social media, and 55% of B2B buyers use social media to gather information before purchasing. Showcasing your brand's expertise and leadership through social media is crucial for building trust and showcasing social proof. Social media is the ideal platform for doing just that.
Instagram Marketing Is Favorable For SaaS Brands In 2023
Instagram marketing can be highly beneficial for SaaS brands in 2023. With its growing ad revenue, an increasing number of shopping features, and a large user base, SaaS brands can reach a wider audience and drive more sales through the platform. Consider the statistics below: 
Approximately one-third of Instagram users are expected to purchase on the platform in 2023.
Figure 1: Instagram is the second best social media platform to sell on. Source: eMarketer
In 2023, it's estimated that 35% of Instagram users will purchase on the platform. Especially Gen Z shoppers who consider Instagram to be a top social commerce platform. This is due to the increasing number of shopping features available on Instagram, such as link stickers and tags, making it easier for users to buy products directly from the app. This trend is likely to continue in the future.
It's estimated that Instagram's ad revenue will reach $50.58 billion in 2023 (source: eMarketer)
Although Instagram's ad revenue of $50.58 billion is still behind Facebook's $71.32 billion, it's growing at a steady pace.
This is because while Facebook's ad revenue is declining, Instagram's continues to grow. According to eMarketer, Instagram's ad revenue is expected to increase by 12.1% this year.
Instagram generates approximately 7.51% of web traffic referrals from social media platforms (source: Hootsuite)
Though it may not seem significant, Instagram ranks third for web traffic referrals from social media platforms, behind Facebook and Twitter.
Importantly, note that Instagram's share of web traffic grew by 88.2% last year, while Facebook's declined by 0.8%. Instagram previously had limited options for linking to websites, but this has changed with the introduction of shopping features like link stickers and tags. Expect this trend to continue.
How To Grow A SaaS Company With Instagram Marketing
Increase brand visibility
Instagram's algorithm prioritizes visually appealing content, making it easier for SaaS brands to stand out and grab the attention of their target audience with exciting visuals. If you don't have a physical product, don't worry – you can still use Instagram to generate interest in your SaaS brand. Get creative by using visual aids like infographics to present data that appeals to potential clients. 
You can also post images, videos, and animated GIFs and even go live with streaming videos. Additionally, Instagram stories, which disappear after 24 hours, offer a fun way to engage with your audience through industry-specific humor and memes.
Create a cohesive Instagram feed
An appealing Instagram aesthetic greatly helps in brand recognition.
Although it is difficult for most SaaS companies to come up with Instagram post ideas and create stunning visuals, being creative aids in the production of engaging content that raises brand awareness.
In addition to focusing on colors and fonts, look at what others in the industry are posting. It enables you to tap into that context and, as a result, add your brand's spin to it. Take product photos and experiment with graphic design and illustrations.
Figure 2: A cohesive IG feed increases brand recognition. Source: Instagram 
Use Instagram Stories
Quick content is all the rage, and IG Stories is the perfect medium to engage your followers. To reach a larger audience via Stories, include brand hashtags or locations. Additionally, SaaS companies should create Instagram Story Highlights albums to keep all vital information about your company, services, and people behind their brand in one place.
Promote offline events
Instagram is an excellent medium for capturing yourself in action at a trade show or event where you are actively demonstrating your product to potential customers. Through Instagram stories, you can create a steady stream of photos, videos, and even live commentary about what's going on at your booth. You can also take advantage of the opportunity to offer discounts.
Run Instagram ad campaigns
Using Instagram ads in marketing campaigns can help SaaS brands reach potential customers and build brand awareness. Because they are long enough to provide a detailed look at the product, full-scale video ads are highly effective for the consideration and conversion stages. On Instagram, videos receive 38% more engagement than images.
Figure 3: Instagram ads can help reach more people. Source: ContentB
Build social proof for your product
User-generated content (UGC) is critical to developing trust in your brand. It's also an excellent way to generate social proof. The main reason is that people trust one another more than businesses.
According to the E-commerce Snapshot report, 54% of US consumers between 18 and 29 believe consumer-submitted photos and videos are more valuable than retail or brand visual content.
And Instagram is not only a gold mine of UGC but also a simple way to get it produced. Brands such as Southwest Airlines frequently promote UGC submitted by loyal customers.
Increase e-commerce sales
Instagram is widely known as a platform for discovering products and services, making it an excellent opportunity for SaaS companies to increase their e-commerce sales. Instagram offers business-specific features like clickable Instagram Story links and CTA buttons that can help you drive sales. 
However, it takes effort to persuade followers to make a purchase. Brands can promote their software by using eye-catching visuals, offering exclusive deals, running contests and giveaways, and showcasing customer reviews and testimonials. Using Instagram's targeting and engagement features can also help you reach your desired audience and increase your chances of making a sale.
Explain how to use your product
As a SaaS brand, use Instagram to explain your products through IGTV, Reels, or Stories features. Create short explainer videos, infographics, or animated gifs to showcase the benefits and features of your products. Use Instagram Stories to give a behind-the-scenes look or provide step-by-step tutorials. Interact with your followers by responding to their questions or hosting a Q&A session. These tactics will provide a better understanding of your product and encourage potential customers to give it a try.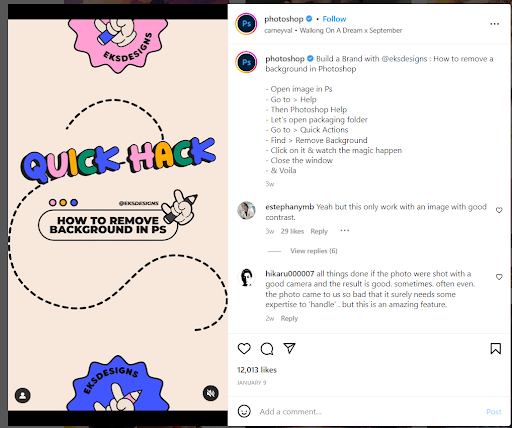 Figure 4: Show hacks and tips for your SaaS product. Source: Photoshop
Share exclusive discounts and offers
Discounts and offers can attract people to check out your product! Did you know that 38% of people follow brands on social media to learn about promotions or discounts? You can do this by showcasing limited-time promotions in your Instagram Stories and posts. You can also target a specific audience with sponsored posts. Another option is to create an Instagram-exclusive discount code for your followers. You can encourage repeat purchases and build customer loyalty by offering value to your followers.
Take followers behind the scenes
One of the challenges for the SaaS industry is representing yourself as a brand with humans behind it. Customers are naturally curious about the brands and products they like, and Instagram allows you to show them their entire lifecycle. Also, it is an excellent place to be casual and share fun moments at your workplace. If nothing comes to mind, post content such as drawings, notes, blackboards, brainstorming sessions, or team getaways. 
SaaS Brands Who Are Killing It On Instagram
LinkedIn
On its Instagram page, LinkedIn focuses on showcasing its company culture, office life, and employee stories rather than just promoting its products and services. The company also shares thought-leadership content, such as articles and infographics that align with its brand values. This approach helps humanize the brand and build a solid personal connection with its audience. 
Hewlett Packard
HP has taken to Instagram with imagery related to printing. Most of their uploads are about creating memories and printing them with HP's diverse range of portable and office-grade printers. It could be more inventive, but it does have a message that its 1.3M followers appreciate.
Boeing
Boeing uses Instagram to post about their workshops and programs on their stories regularly. Boeing's iconic aircraft dominate the page, but they understand their target audience and always hit the mark with every post. Their fans are highly engaged, which is sometimes all that is required.
Adobe
Adobe's social media channels are brimming with eye-catching graphics created by its vast network of creators who use its products. They distribute UGC across all of their social media platforms. It's a great strategy because you don't have to break your head trying to develop new post ideas daily while also engaging your customers and building loyalty.
Intel
Intel is known to use a clean, minimalist style in its Instagram marketing, which helps the brand come across as innovative and technologically advanced. They often share visually-appealing images and videos showcasing their products, along with educational content highlighting the technology behind their products. You can also spot strategic use of hashtags and influencer partnerships in reels and other content on Intel's page. 
---
Collaborating With Influencers Can Be A Game Changer For SaaS Instagram Marketing
Quoting David Alston, "Social media is not a media. The key is to listen, engage and build relationships". In an increasingly cluttered digital landscape, it can be challenging for brands to establish trust and connect with new audiences. This is where influencer marketing can provide a solution. By partnering with Instagram influencers, SaaS brands can leverage the power of their following to promote products and services to a targeted audience. With compelling storytelling and a strong voice, influencers can help build trust and increase brand awareness for SaaS companies.
Say goodbye to manual processes and hello to efficient influencer marketing with our AI-powered platform Atisfyreach and experience the ease and efficiency of automated influencer marketing processes. Maximize your marketing efforts with just a few clicks. Register and start your journey towards successful influencer campaigns.