Streaming is one of the most popular technologies of the current age. Initially a standalone form of entertainment, it has expanded into other sectors, with music, gaming, and live stream marketing taking center stage.
Live stream marketing is expanding quickly on two major fronts: 
Social media platforms like

TikTok

eCommerce shops that are developing their software infrastructure to accommodate the trend
The live streaming industry is currently worth billions. It is only anticipated to expand (see infographic below). It is safe to assume that it will only grow and morph into newer forms of short video content in the years beyond. 
However, despite the abundance of income prospects, many brands have yet to determine the most effective methods to use live streaming in their marketing plans.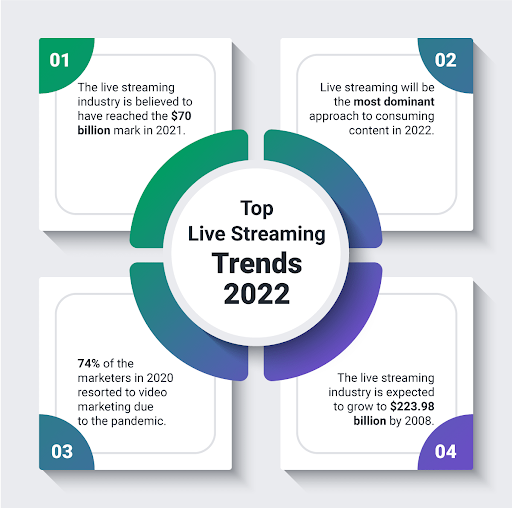 Figure 1: Top Live streaming trends in 2022. Source: SoftJourn
You may miss out on a huge chunk of customers because you are shy of going live. Perhaps because you don't know why or where to start! We are here to solve that for you with data (that we know marketers love!) and tips to get your creative juices rolling. 
---
The Live Streaming Market Size and Trends
According to data, the live streaming market will expand by an average of 21% per year until it reaches $223.98 billion in 2028. Faster internet speeds, the growing popularity of esports, and the opportunity for more brand interaction are the main drivers of the live stream market's future expansion. Websites like Twitch, YouTube, and Facebook Gaming saw tremendous growth. Twitch launched additional tools to air various forms of content by capitalizing on the interests of their tech-savvy audience. Both revenue and viewership in e-sports are rapidly increasing, post-pandemic, and have barely slowed down. 
Figure 2: Esports live streaming market is predicted to keep growing. Source: SoftJourn
Why Should I Use Live Stream Marketing?
The biggest benefit of live stream marketing is that users watch content on your schedule rather than their schedule (with provisions to watch later). This indicates that you only interact with those who value your brand and the information you provide. By default, your efforts are directed towards those users who are most likely to convert and stick around. 
Some additional benefits include: 
Create a sense of urgency 
Creating a can't-miss event can draw people to your broadcast in droves since FOMO plays a crucial role in live streaming. If you promote the event well in advance, you can give people time to make space for it in their schedules. 
A live stream event usually lasts longer than a Reel or pre-recorded video. This helps users, creators/hosts interact more deeply and get their point across better. 
Attendees can speak with the presenter or ask questions in real-time during a live stream. Customers often ask questions during such events that a presenter can answer much better than they could in a DM or pre-recorded video. This is likely the main reason people watch live broadcasts. 
Longer engagement with viewers
Statista reports that people spend up to 5 hours a day watching video content on social media. This is a massive chunk of time people are willing to spend engaging with content marketers can leverage. TikTok and Instagram Reels give creators only a few short seconds to interest viewers and have no option to improvise. However, live broadcasts allow hosts to talk in-depth and combine several techniques (Q&A, unboxing, lessons, etc.) into a single video.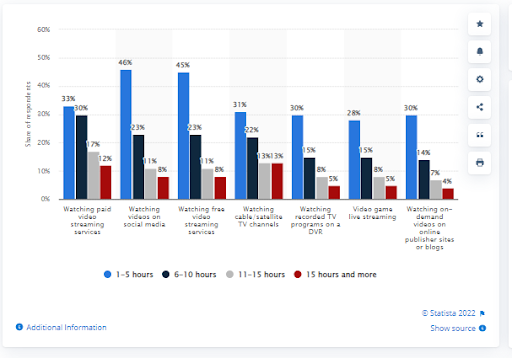 Figure 3: On average, people spend up to 5 hours watching video content on social media. Source: Statista
Live stream marketing is more authentic
Raw authenticity is on full display during a live stream. No matter how much a creator has prepared in advance, there are moments when they will have to be themselves. And this is a good thing because that's what the audience wants to see and trusts. Bloopers aren't humiliating; they humanize your brand. 
Live Streaming By Social Media Platforms
Instagram live stream
More than 62% of creators say they prefer Instagram to any other channel for "going live," making it the platform of choice. 
Four people can "go live" on Instagram for a single broadcast of up to an hour. The Stories area at the top of the Feed displays the broadcasters' account icons with a "Live" tag when the stream starts. Then, users can click the icon to view the live content and communicate with the streamers in the chat box in real-time. 
YouTube live stream
YouTube was, in many respects, the first video-based platform, and it still has a significant impact on live streaming for marketers. Although Instagram has the most live streamers, users claim they prefer YouTube for live video. 
For marketers, this has enormous potential; as you might guess, live streaming does particularly well on this platform. Additionally, YouTube Premiers let creators watch shows together. With this tool, streamers may make a public watch page to share with their followers before the show.
Facebook live stream
On Facebook, live videos receive three times as many views and ten times more comments than ordinary ones. This shows the efficiency of live broadcasting on Facebook and explains why 42.7% of companies use Facebook for live stream marketing. 
Facebook users can invite multiple accounts to a live broadcast, like Instagram. You may add the streams to a page, group, profile, or event using the Facebook or Creator Studio apps. You can also host paid virtual events online.
Twitch live stream
Gamers have long flocked to Twitch to watch live broadcasting. It is renowned for introducing celebrities to the gaming community and smashing its record for stream viewership in 2018. But Twitch is no longer exclusively for gamers. Lifestyle influencers specializing in DIY, beauty, fashion, parenting, food, music, and other topics are gaining substantial viewership. 
TikTok live stream
At the moment, only creators who are at least 16 years old and have at least 1,000 followers may access TikTok Live, which is still relatively new.
TikTok Live Studio lets creators download an app on their desktop that lets them broadcast straight to TikTok Live. Like other streaming services, TikTok Studio lets content producers stream from their computer and game console and engage in live chat conversations with viewers.
Live Streaming Marketing Tips And Best Practices
If you want a good turnout on your broadcast day, you must start a buzz around it a few weeks before. This gives you enough time to creatively market your upcoming event, engage others to talk about it, and create curiosity in your audience.  
Only go live with creators you trust
While bloopers may lend authenticity to your brand, wrong information or a bad attitude can be hard to recover. What is said on a live webcast cannot be undone. A controversy resulting from offensive content may seriously harm an influencer's reputation. If your brand is associated with a troublesome creator, it may be difficult to restore your reputation. Only give the reign to dependable people.
Take note of how the creator engages with their audience 
Part of your research when looking for influencers should be assessing their engagement style on their channels. You should always focus on influencers that foster a pleasant environment and have meaningful dialogues with their audience.
Consider macro-influencers
Micro-influencers have high engagement rates and can conduct a successful live stream. However, macro creators are the best bet if you want to increase visibility and want a bigger turnout. Given the time, money, and planning that goes into a live show, you may need the numbers to justify the costs. 
Let the creators takeover
An influencer takeover is one of your account's finest organic marketing strategies. It's hard to perceive a drawback to the practice as long as you do it intelligently. A terrific method to reach a new audience, advertise a product launch or grand opening is to let a well-known influencer take over a business live stream. A successful takeover, however, necessitates considerable collaboration and planning.
---
Biggest Focus Of 2022: Get Personal 
Building connections will be the main priority for businesses in 2022 to convert followers into our largest fans, clients into our biggest advocates, team members into our biggest evangelists, and members of the community into collaborators. The key will be showing up so that we can genuinely connect with our consumers on a human level. Going live and getting raw is the best way to achieve this. 
Influencers make excellent live streaming partners, masters of their craft in holding audience attention. As a marketer finding and collaborating with influencers is indeed a humongous task. We understand this struggle at Atisfyreach. This is why our platform is the most comprehensive, straightforward solution to all your influence marketing needs. Book a demo to experience its benefits.