Influencer marketing is well worth the investment for marketers. According to Statista, by 2023, marketers will jointly spend more than $4.5 billion on influencers. Working with a thought leader, influencer, or mover in your company's industry benefits your brand's overall strategy. 
Figure 1: Marketers plan to increase their spending on influencer marketing year after year. Source: Statista
But how can you know what will work when there are so many different approaches to this kind of marketing? From recruiting a YouTube celebrity to talk about your product or service to teaming up to create user-generated content? Or how much your influencer marketing budget should be? Influencer marketing can be highly expensive or affordable, depending on your strategy. 
The industry still lacks clear brackets or formulas to help marketers decide what to pay an influencer. In this blog, we suggest key metrics to guide you on your influencer marketing spending and tips to maximize your influencer partnerships. 
---
5 Metrics That Can Affect Influencer Pay
Influencer audience quality 
Many of your campaign results depend on the followers an influencer has. It is important to check out a few things before making an offer, such as:
Is their follower count gradually increasing over time?

Are they participating in engagement pods or have bots or

fake accounts in their following?

Is there enough authentic engagement under their posts?

Is there a good overlap between their audience and your target demographic?
Also, consider the market you plan to access through the influencer. Depending on the data, you will be better positioned to negotiate the rates fairly. 
Influencer engagement and view rates
You should evaluate the influencer's follower count concerning their engagement rate. What is generally regarded as a decent engagement may comparatively be low for the influencer's following. Calculate this rate across the last 10–12 posts to get a true sense of their degree of engagement. Since this fluctuates regularly, estimating it from just one post may not provide a reliable result. Also, consider the findings for organic content against sponsored content and look at these rates across several platforms. Doing this aids marketers in making the transition from a model that compensates influencers just for the size of their audiences to one that recognizes their effect on your business.
Influencer follower count
One of the most common methods of calculating compensation is follower count; however, you should not use it in isolation. You may determine the total worth of an influencer's connection with your brand by adding their audience size to the other indicators on this list.
Remember that each influencer tier might have a varied effect on the different funnel phases. VIP and top-tier influencers excel at increasing awareness (views, impressions, and engagements on videos), but they might not be the greatest at boosting sales. While having a smaller audience, mid-tier and micro-influencers may be more successful in driving sales. When determining an influencer marketing budget, you should consider each of these factors.
Your target cost-per-engagement or cost-per-view benchmarks
Setting target cost-per-engagement (CPE) and cost-per-view (CPV) metrics is one technique to assist your brand in making decisions about which influencers to invest in and to what degree. After gathering relevant data on the influencer's performance, the total spending must align with your budget. 
You may decide if a possible partner fits inside your budget by comparing your evaluation of an influencer's expected performance with your projected budget.
Tips To Maximize Your Influencer Marketing Budget
Continually collect information 
Reaching out to influencers is still beneficial even if you are not sure whether you will pursue collaboration with them. You will get the chance to find out more about the influencer and to get their rate, which will help you strengthen your knowledge of market rates.
Budgeting for usage rights and content amplification is essential. Creators are influencers. If you discover the perfect partner, they will create stunning content your audience will adore for your company. You must be prepared with an offer in case one of their pieces of content becomes viral so that you can take full advantage of it.
Leverage long-term partnerships‍
Long-term collaborations are suitable for the influencer and the company and are also becoming a norm in the industry. Consider extending a creator's contract if they are a good fit for your campaign. This has a few advantages:
You can negotiate better prices for the bundled content

If the influencer is a brand fan, they may post about your brand on their own

With repeated mentions, the influencers' audience may be more familiar with the brand.

Chance to begin early with an influencer who shows potential for rapid growth.

Keep content type in mind
The rates of an influencer can fluctuate a lot based on the platform and content style. Ensure that each of these groups is represented in the rates you receive. Remember that a platform or format will cost more if it is popular or time-consuming to develop. Nowadays, a TikTok video typically costs more than an Instagram feed post.
Don't underpay or overpay for influencers
If you've located the influencers that you believe have the potential to serve as long-term brand advocates, compensate them reasonably. Do everything you can to prevent the influencer pay gap in particular.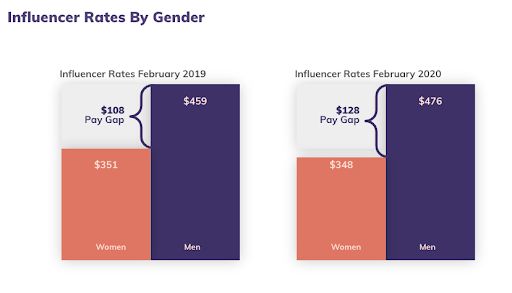 Figure 2: Influencer rates by gender. Source: Klear
The likelihood that a creator will go above and beyond with their content for you increases when you show that you value your relationships with them. Influencers, for instance, frequently create better content and share more of it when they feel necessary to you. Make sure that your expenditure on influencers this year, whatever it may be, puts them ahead of the newest trends.
Of course, paying creators too much is also a possibility. Either unintentionally or as a result of their requests for larger than usual remuneration. Additionally, the prices for agents or other talent-management fees may soar, forcing the rates beyond what would be deemed fair-market value. Research is crucial to establish fair remuneration for marketing needs and influencer levels.
Consider affiliate marketing part of the influencer marketing strategy
Influencer and affiliate marketing are similar because they rely on independent social media enthusiasts to spread the word about your company. You can find influencers who are both affiliates and influencers, albeit the two may not always be the same. Influencer affiliates have joined an affiliate network and amassed a social media following. These networks provide customized connections to products from your catalog that influencer affiliates can choose to promote to their audiences. In this case, payment terms are more on a commission or profit-sharing basis. If you provide a coupon code to the affiliate, then it also makes it easier to track performance. 
Create a comprehensive activation plan
The least you can do if you're expecting a lot from your influencer marketing budget is to be more targeted. Work backward by reviewing your strategic calendar and outlining your anticipated activations and campaigns. By doing this, you may determine which initiatives will be funded with priority and which ones would require budget reductions.
Consider the example below: 
For a budget of $10,000 to $50,000
Use 50% of the funds allotted for campaigns or ambassador programs to produce high-quality content you will share with the influencers' audience. These platforms include blogs, YouTube, Instagram, and TikTok.

Use 25% of your budget for paid media to reach your target audiences with the best-performing content. Instagram and Facebook Ads Manager are included in this. 

Use 25% of the budget to get your products reviewed so you can gather ratings and reviews from influencers and brand advocates

in exchange for products

or gift cards etc

. 
Repurpose influencer content
Waiting for new content can be a significant barrier for brands aiming to enhance ROI because producing new content requires a lot of time and money. The adept marketer uses repurposing influencer-generated content as a more affordable, quicker, and equally effective approach to increase their return.
Here are three quick ideas to make the most of the content in your hand
Redistribute content on several platforms:

Repurpose the incredible TikTok videos your creators produce on Instagram Reels or as a Pinterest Idea Pin.
Put your ambassador program to use:

Ambassador programs often offer big volumes of content for less than average charges.
Publicize your reviews and ratings:

When working with content creators to solicit ratings or reviews, try providing a small incentive to encourage review submissions in addition to content creation.
---
How Much Should You Spend On Influencer Marketing? We Can Help!
When is an influencer marketing budget enough for all the plans and goals you want to achieve? 
But we understand the struggle!
There are many things to get stuck on, from deciding how much money to spend on influencer marketing to maintaining influencer relationships.
Here is where we come in. The full-service platform from Atisfyreach can handle all aspects of your influencer marketing campaigns. Finding amazing creators to monitor the performance of your influencer content once it goes live, are all part of this process. Also, the AI gives you access to real-time data for your reporting needs.