The threat of a looming recession has kept up brands planning to expand their influencer marketing budgets in 2023, proving the value and effectiveness of this approach.
This means more brands are tying up with influencers to get their products to the masses. But what if you are a small business with next to nothing leftover in your budget to pay influencers? Does that mean you have to sit this one out?
We have some good news for you!
According to a credible report, 83% of creators are still willing to work with brands for just free products as long the product is relevant to them (personally or appeals to their audience) or if the product itself makes up for the fee!
Product seeding is a powerful tool for maximizing your influencer marketing efforts, and this guide is here to help you make the most of it. With 83% of consumers trusting recommendations from friends and family, product seeding is a must-have for any brand looking to tap into the power of influencer marketing.
Get ready to learn the insider tips and tricks for making product seeding work for you.
---
What Is Product Seeding?
Product seeding is a marketing technique where brands provide their products to influencers to promote and increase brand awareness. The goal is to generate organic, authentic content that showcases the product in real-life situations and to reach a wider audience through the influencer's followers.
For example, a clothing brand may send a new line of clothes to fashion influencers to be featured in their social media posts, resulting in increased exposure and credibility for the brand. The influencer's followers can see the product in use, hear the influencer's take on it and make a more informed decision to purchase.
Product seeding is a cost-effective alternative to traditional advertising and influencer marketing. It helps build a strong relationship with key opinion leaders (KOLs) and eliminates the need to negotiate on collaboration prices or promotion budget allocation.
How Are Notable Brands Leveraging Product Seeding?
Big brands often use product seeding as part of influencer marketing strategies to reach a wider audience and generate buzz about their products. The legacy brand Apple brought many Indian celebrities and influencers on board to create buzz about its AirPods Pro, garnering a reach of more than 24 million.
Product seeding allows brands to generate user-generated content, such as social media posts and video reviews. Additionally, some brands may use product seeding to target specific niches or demographics by partnering with influencers who have a following in those areas. The goal is to create a sense of authenticity and to generate positive word-of-mouth about the brand and its products.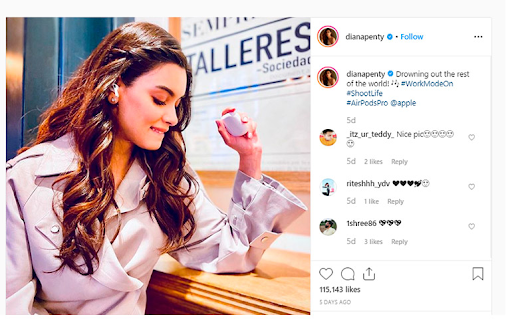 Figure 1: Influencer Diana Penty promoting Apple's AirPods Pro. Source Instagram
Even smaller brands have found success with product-seeded micro-influencers. For instance, Animalhouse Fitness leveraged product seeding to introduce its innovative product, MonkeyFeet (a dumbbell attachment for feet), to the fitness market. The company gifted over 100 micro-influencers their product with no strings attached, fostering genuine relationships rather than asking for obligated posts in exchange. This user-generated content was then repurposed across Animalhouse Fitness' channels and used to launch 10-15 unique weekly ads, resulting in authentic video content that became top-performing ads on Facebook and Instagram.
Figure 2: Animalhouse Fitness x product-seeded micro-influencers. Source Instagram
Benefits Of Product Seeding
1. Long-term, authentic brand ambassadors
Product seeding can create long-term, authentic brand ambassadors who can help spread the word about a brand's products and services. If your focus is fostering a positive relationship with the influencer, you can establish a community of dedicated supporters passionate about the brand and products. This type of advocacy can result in increased brand loyalty and a more positive brand image over time.
2. Earned brand loyalty
Influencers who receive free products and have a positive experience with them are more likely to become loyal customers. Provided the influencer has a positive experience, it results in this type of earned loyalty rather than being liable, forced, or purchased through traditional advertising.
3. Cost-effective influencer marketing
Product seeding is a cost-effective form of influencer marketing, as brands only need to invest in the product's production costs. Influencer marketing through product seeding eliminates the need for costly advertising campaigns, such as paid advertisements or sponsorships.
4. Brand awareness
The right influencers can expose products to new audiences, increasing brand recognition and exposure. Nano-influencers work great for this purpose. Product seeding can also result in higher brand recall, as users are more likely to repeatedly remember a product that they see influencers using.
5. Product placement
Influencers are adept at displaying products in real-life scenarios and situations, making them more relatable and appealing to their target audience. This type of product placement helps to increase the product's credibility and create a stronger connection with the target audience.
5 Focus Areas For Product Seeding To Actually Work
Think about it: what can brands expect in return when they give free products to influencers without soliciting them?
A successful product seeding campaign should generate sales, user-generated content, and valuable product feedback. At the minimum, brands should get feedback from the influencers. However, many brands fail to receive any meaningful feedback from influencers due to their lack of interest in the product.
Hence, for a successful product seeding campaign, you must focus on these 5Ps if you want meaningful product outcomes.
Personalization
To make a great first impression with influencers, show them that you've done your research and explain your interest in working with them. Impress creators by demonstrating your knowledge of their niche and familiarity with their content. Personalize your outreach by:
Telling creators why you sought them out and mentioning something specific that caught your attention
Adding a personal touch with a handwritten note or customizing the product with their name
Sending a product tailored to their interests or personality, if possible
Providing a one-pager with campaign hashtags or personalized affiliate codes for maximum reach and impact of their content if they decide to post.
Figure 3: Personalize your influencer gifts to each influencer. Source Instagram
Packaging
Ensure your free product stands out by going beyond a boring, unmarked box. Influencers who receive many free products often record unboxing videos, so your packaging can help your product stand out.
Enhance the packaging with beautiful branded paper, thank you cards, business cards, additional treats, and anything else you can think of to make it more memorable. Additionally, making the package visually appealing increases the possibility that they may share it on social media if they choose.
Preferences
Before sending a package to an influencer, research their preferences. Influencers' lives are displayed on social media, from their likes to dislikes; their feeds represent them and their interests. Sending them something useful increases the campaign's value.
Product Picking
You may believe that gifting the cheapest product is the way to save money. However, it is not necessary to relinquish some of your more expensive items to show appreciation. The wow factor of your flagship product could be enough to leave a lasting impression and even result in the influencer requesting more products to review.
Permission
Keeping the influencer in the loop about sending them gifts is also a good idea. Before sending a gift, ask for permission and inform the influencer that a package is on its way. This small interaction indicates you value their experience with the brand and helps you monitor shipping errors or package damage.
How To Run Successful Product Seeding Campaigns?
1. Choice of influencer and platform
When selecting influencers for your product seeding campaign, consider your primary goals and target audience. Ask yourself what about your brand interests them and focus on micro or nano influencers with a genuine following. Getting clear on your goals and knowing your target audience is the key to getting started.
Next, compile a list of influencers from different platforms with a real use for your product, whether they create content related to your industry or seem to need what you're offering.
2. Initial contact
There is no harm in using pre-made templates for your mass campaigns, but make sure you personalize the text before sending it to any influencer. You won't want to come across as automated and risk getting ignored. Instead, add the correct name and personal details in your message and express your expectations transparently.
3. Further communication
If the initial contact was successful and the creator agrees to product seeding, you must decide whether a verbal agreement is sufficient or whether you want to secure the cooperation with an influencer gifting contract.
Also, make it clear whether you can reuse produced content in your posts, such as part of influencer whitelisting. Are there any specific hashtags or content formats you'd like them to use? Then inform them as well. However, avoid getting bogged down in details that may undermine the post's authenticity.
4. Logistics
Once you settle the above formalities, you must then act quickly to ship products on time so that content creation can begin. The last thing you want is a bottleneck that halts your campaign from the start.
If your product is also your primary source of compensation, you should deliver while the conversation is still fresh in the influencer's mind to foster strong partnerships.
6. Analysis of the product seeding campaign
Evaluating the results of a product seeding campaign helps determine its effectiveness. Analyzing metrics such as the number of posts created, the reach and engagement of those posts, and the conversion rates from influencer referrals can give a clear picture of the campaign's success and help guide future efforts.
7. Building a long-term partnership
Don't just send it and forget about it—keep in touch with your influencers after you've sent them a gift. After some time has passed, follow up. Inquire about how the product works and whether they have any questions about it. Be genuine and positive in your interactions. Continue the conversation!
---
Streamline Product Seeding Campaigns For Optimal Results With Influencer Marketing Platform AtisfyReach
A product seeding campaign usually works best if multiple creators are involved in a single campaign. Finding and managing contracts in such a scenario is time- and effort-intensive.
Our influencer marketing platform, AtisfyReach can help streamline the process for brands by
Matching brands with relevant creators
Providing a centralized location for managing campaigns
End-to-end workflow automation
Tracking results with real-time data
Automating influencer contracts and payments
Get to know our product in detail.
Maximize your product seeding efforts with our influencer marketing platform. Connect with the right influencers, track campaign success, and streamline your seeding process. Try a free demo today and see the results for yourself!