Did you know nearly 40% of the nerve fibers to our brain are connected to our retina? Therefore, the information travels faster from our eyeballs to the brain cells. This connectivity also enables us to retain the knowledge gained through videos rather than through non-visual content. This connection is the sole reason 87% of influencers and online marketers share messages via videos on YouTube, Instagram, and TikTok.
Figure 1: Famous personalities leveraging Instagram Reels. Source: TIME Magazine
These numbers make it clear that creating videos is the best route to a strong online presence. We are giving away five good reasons to convince you that video content is the need of the hour! 
---
Reason 1: Videos Generate More Sales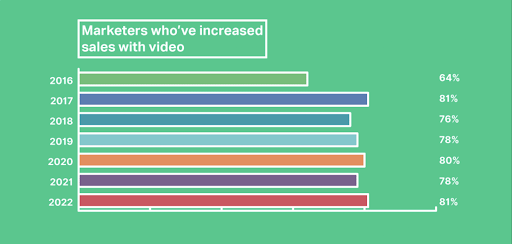 Figure 2: 81% of marketers witnessed a boost in sales through video marketing. Source: Wyzowl
A study by BrightCove reveals that 85% of consumers are highly likely to purchase a product after watching a product video. Websites leveraging video marketing have received tangible results in 4.8% conversion rates. This stat is almost double the rate of brands that do not use video.
Understanding the efficacy of video content, Dollar Shave Club produced a humorous video regarding its unique services. This cleverly executed video helped them gain 12,000 customers in one day! The brand is still experiencing the benefits of its efforts and flourishing. 
Figure 3: Dollar Shave Club's amusing video. Source: Jilt
Videos dynamically showcase your products, boosting the buyer's trust in your company. And they are easy-to-digest for all customers, irrespective of the stage they are at in your sales pipeline. Moreover, videos do not require the target buyers to put an extra effort to interpret the message and understand the product's benefits.
Video content is also valuable for new customers, whose purchasing decision depends on reviews and testimonials. The video reviews of satisfied customers easily convince them. These videos streamline brands' trust-building process, and trust usually translates to sales.
Reason 2: Videos Have More Shelf Life
Do you know the famous saying, "Nothing lasts forever"? Well, video content doesn't last forever, but it does last relatively longer than other content formats. Consider the famous video titled "Charlie Bit My Finger." The video featuring Charlie and his elder brother was uploaded in 2007. But in 2021, it went viral and received over 886 million views. Interestingly, the video was sold in NFT form (non-fungible token) for $760,999.
Figure 4: Thumbnail of the world-famous "Charlie Bit My Finger" video. Source: BBC
The point is that videos have a longer shelf life than blogs, images, or audio. TikTok is an apt example. TikTok videos surface on viewers' For You page for months after publishing. The reason videos stay in the social ecosystem for longer is because they generate more interactions and shares.
You can also bring renewed energy to your age-old videos by updating their metadata. In other words, include targeted keywords in the video's title, description, and tags. According to YouTube's Creator Academy, updating the metadata signals YouTube crawlers to take a fresh look at your old video. This boosts your chances of ranking higher on the search engine result pages.
Another way to ensure your videos are lasting is to create shorter videos. Pick a niche-related theme and produce a series of shorter videos based on it. Short videos are less demanding; therefore, they are shareable and get more engagement. The cycle of forwarding the video to friends and families helps the video stick for longer. 
Reason 3: You Can Repurpose Your Videos Across Multiple Channels 
Figure 5: Share TikTok videos on Instagram as Reels. Source: Apowersoft 
Videos are a popular channel of expression on most social platforms, be it Instagram, Facebook, LinkedIn, Twitter, or something else. Consumers now expect brands to produce video content on social media, showcasing their products and services. This means you need to make videos on diverse platforms to grab the attention of your target audience spending time on those platforms. 
Do not get overwhelmed by the copious number of social platforms. Cross-channel video content marketing is all about making careful choices. Be thoughtful and selective. Research platforms your audience finds the most engaging and spends time on. Produce captivating videos on those platforms only.
However, you do not need to produce a different video for each platform. Instead, consider repurposing your content. Repurposing is one of the reasons influencers and brands are succeeding on TikTok and Instagram. Both platforms share the 9:16 format, thus, cross-uploading the same video — or a slightly tweaked version — works without a glitch.
Ensure your videos offer value wherever you upload them. These days, original videos with a casual approach perform well compared to professional ones with an "artificial" feel. But don't make your simple videos look lazy. Assess your audience's preferences and create videos accordingly.
Here are a few tips you can use to repurpose your video content:
Post a 1-minute snippet of your YouTube video on Twitter

and add the link to the entire video. Remember to select only the most enticing bit because Twitter does not allow longer videos.

Share your Instagram video content on Facebook

, as 92% of marketers use Facebook for advertising.

Share your 15-second Instagram story videos as Pinterest video pins

.

Convert your Instagram live broadcasts into an IGTV

.

Turn your videos into audio podcasts

. Make sure to alter the video content from an auditory point of view and check if the audio quality is top-notch.

Convert your videos into blog posts

for the customers who prefer reading over watching a detailed video. Include keywords in your blogs to attract search engine crawlers and rank higher.
Reason 4: Videos Are Far More Engaging
Only fascinating videos can hold our attention, with a human's attention span coming in at around 8 seconds. They elicit emotional responses, therefore, get ten times more engagement. Engaging videos are shareable, likable, and commentable compared to other types of content on social media. Thus, using them will enhance visibility.
Video content is more appealing to the human eye because our brain processes visuals 60,000 times quicker than text. 90% of the information we process is visual. In addition to processing, we are better at interpreting videos, too.
Figure 6: Brain processes visual information faster. Source
Therefore, we recommend you devise creative video content ideas to boost your growth. Hone your visual storytelling skills to convey the brand message quickly and clearly. Incorporate voiceovers, text, and animation to make your videos dynamic. Storytelling will also help you mildly advertise your products instead of blatantly producing assertive marketing videos.
Reason 5: Gen-Z Consumes Video Content
A recent study revealed that 86% of the Gen-Zers (10 to 25-year-olds) use YouTube, 68% use Snapchat, and 74% use Instagram every week. ‌These platforms rely heavily on video content because videos rule the Gen-Zers' hearts and dominate the social media landscape.
Figure 7: 1-minute long videos prevalent on social media grab Gen-Zers' attention. Source: Snapchat 
These social media channels, especially YouTube, have been the primary sources of education and entertainment for Gen-Zers. No wonder TikTok has 35% of Gen-Z consumers as its primary users. Most viral TikTok stars fall in the same demographic, aging between 18 to 24.
The superiority of video content is because of its versatility, which is absent in non-visual content. Thanks to the captions, users can watch the videos with the audio off. Vision impaired viewers can also listen to the recording. Such options are unavailable in other formats.
Lastly, the de-stressing power of video is crucial for its rising fame. The Gen-Zers live in a highly competitive academic and social atmosphere. Nearly 84% of this audience is overwhelmed by school assignments and activities. Engaging videos on YouTube and TikTok remains their only refuge in stressful conditions.
Video Content Tips To Boost Your Online Presence In 2022
Here are some ways you can tug at your audience's heartstrings with video content: 
Share videos on TikTok

: TikTok has almost 689 million users, including a massive chunk of your target audience. You will miss out on your potential customers by not

leveraging TikTok.

Fortunately; you can perform well on TikTok even with minimal effort because TikTok only allows 60-second long videos. 
Host live events

: Live videos highlight your brand authenticity, making you trustworthy. Therefore, conduct live events online to showcase your products or services.
Add shoppable elements

: Including

shoppable features

in your videos makes purchasing easier for the customers. These elements enable users to buy directly without adding steps, such as clicking links and visiting websites. Social media allows users to complete the entire process from a single platform.
Create how-to videos

: Tutorials solving customers' problems are an incredible way to show you care for your customers. Create a step-by-step video guide showing users "how to" complete a specific task.
Behind-the-scenes video

: Offering sneak-peeks is an incredible way to entertain and engage your audience. It also humanizes your brands. Therefore, produce videos showing employee interviews, product manufacturing, company events, and day-to-day operations.

Collaborate with other creators

: Influencers are the masters of this medium. Their job description screams "video content creator!" So see if they would be interested in partnering with you. Videos they create featuring you will get the much-needed attention you need, boosting brand awareness and generating more sales. 
---
Are you thinking of partnering with popular video content creators? We've got you covered! Our AI-based platform is redefining influencer marketing and offering streamlined solutions to brands. Simply register your interest with Atisfyreach, and get set to connect with suitable influencers who are ready to promote your products and services!