Influencer marketing is the future. 93 percent of marketers now use it to expand their reach, boost conversions, and increase brand awareness, according to a survey conducted by SocialPubli. This marketing tactic has proven to be so effective that 48 percent of marketers are planning to increase their influencer marketing budgets in 2023, revealed an analysis of the social media ecosystem by AspireIQ.
But how did we get here?
The influencer marketing concept has been around for a while, with the earliest marketers figuring out that featuring influential people in their ads could sway purchasing decisions. This was before social media came to be, and people relied on print, TV, and radio ads for product recommendations.
This blog will walk you through the influencer marketing history, and discuss what lies ahead as we navigate the dynamic social media landscape.
What Are Influencers, What Is Influencer Marketing?
Today, an influencer is an individual who can influence others – and they wield that power through social media. They have the power to affect others' buying decisions because of their authority, knowledge, or relationship with their audience. Influencers have a following in a distinct niche, and they actively engage with their followers.
The right influencer will help you reach your target audience more effectively, build trust, and spur engagement. They create original and engaging content, meaning they are not always keen to follow template advertising styles provided by brands since they have their own unique style their audience appreciates.
So, it's important to work with an influencer marketing agency to find influencers whose vision and style align with your own.
There are different types of influencers categorized by their following and engagement rates. We have macro-influencers who have millions of followers. Such influencers include traditional celebrities like Kendall Jenner, who get millions of likes on their branded posts.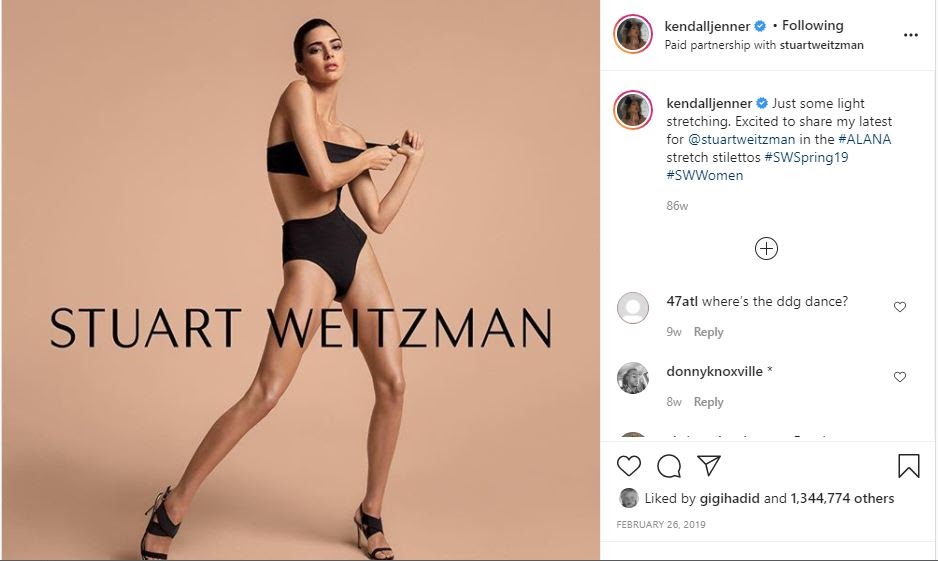 Figure 1: Kendall Jenner Instagram post. Source: Instagram
We also have micro-influencers who have a following of around 10,000 and 100,000 followers. Such influencers are specialists in their fields, and they have earned their following through consistent content creation.
Lastly, we have nano-influencers. Such influencers have smaller audiences, but they are usually very invested in their niche. Nano influencers are good for driving traffic to a brand's online profile because of their solid and trusted recommendations.
What is influencer marketing?
Influencer marketing uses product mentions and endorsements from influencers – individuals with a dedicated following on social media and who are viewed as experts in their niche. This type of marketing works because of the high level of trust influencers have built with their audience, making their endorsements a form of social proof that brands need to penetrate niche markets.
Instagram is the most widely used platform for influencer marketing. Other networks like YouTube, TikTok, Twitch, and Snapchat have their own influencers with different demographics. This year, the influencer industry is expected to grow to $9.7 billion, up from $6.5 Billion in 2019.
Figure 2: Estimated Influencer Marketing Growth Graphic. Source: Influencer Marketing Hub
Compared to other marketing methods, influencer marketing has the greatest ROI because of its ability to strengthen brand messaging through authentic endorsements. Several marketers were asked about their opinion of influencers by Mediakix, and 89 percent of them said the ROI from influencer marketing was better or comparable to other marketing channels.
Figure 3:Influencer Marketing ROI Graphic. Source: Mediakix
Get everything you need to know about influencer marketing in our ultimate guide here: The Ultimate Guide To Influencer Marketing: Everything You Need To Know.
Earliest Examples Of Influencer Marketing
The first influencer collaboration dates back to the 18th century when a porter named Wedgwood made a tea set for the Queen. The monarchy was the ultimate influencer at that time, and Wedgwood's decision to promote his pottery as royal-approved catalyzed his brand and brought lots of customers.
In the early 1900s, Murad Cigarettes featured film star and comedian Fatty Arbuckle in their advertisements. This was one of the first well-known instances of celebrity endorsement, and the success of the campaign spurred numerous product endorsements from celebrities and athletes.
The next era of influencer marketing brought a wave of fictional characters that were used to endorse products. In 1932, Coca Cola used Santa Claus to drive beverage sales during the Great Depression. The jolly image of Santa was used to convey cheer and remind customers of the joyful qualities of Coca Cola.
Figure 4: Malboro commercial. Source: Pinterest
In the 1950s, the Marlboro man was used as a symbol of being 'macho' when advertising Marlboro's cigarette brand. The icon was portrayed by different actors to make smoking look masculine and trendy.
Celebrity endorsements picked up in the 80s with Michael Jordan hired to endorse Nike sneakers. The Nike Air Jordans hit cult status ever since Michael wore them for the first time in 1984, earning Nike $70 million in the first year.
Did you know that the history of influencers dates back to the beginning of human existence! Check out our blog: The Very Beginning Of Influencer Marketing
How We Got To Where We Are Today
The 2000s ushered in a new millennium and a new avenue for brands to explore for marketing – the internet. Today's marketing is all about being where your customers are, and the rise of the internet made it possible for brands to connect with their audience from all over the world affordably. 
The internet also democratized influence by allowing ordinary people to start digital diaries or blogs to share their thoughts on a particular topic and build an audience. The focus started shifting from traditional celebrities to ordinary people we know, love and can relate to.
The first blogs to be established were mommy blogs set up by ordinary moms to share their parenting journey. This was in the early 2000s, and by the end of the decade, these blogs had gained a massive following, helping the creators secure partnerships with brands targeting their loyal readers. These real and authentic voices introduced a fresh take on brand recommendations, leading to more ordinary people securing deals to promote products.
The development of social media and its popularity with young people helped influencers carve out a market for themselves as ambassadors for their favorite brands, helping businesses get their messages to the people who matter. Online content creators moved to social media, especially Instagram, and earned many followers for their humor and expertise on certain topics. 
Figure 5: Instagram influencer post. Source: Instagram
This gave rise to a new breed of influencers, ordinary people who are knowledgeable about specific issues. Celebrities have been endorsing for years, but regular people can do it now because of social media. Ordinary people have managed to harness the power of social media, building engaged communities who follow their lead and listen to their opinions. The lifestyles of these social media influencers are also achievable, making them relatable to the average user. Brands started to notice this, and partnerships blossomed as businesses sought authentic ways to connect with their target audience.
Fast forward to today – Did you know that people now spend more than 5 years and 4 months of their lives on social media platforms, according to a study by influencer marketing agency Mediakix. Not only does the number continue to rise, but so does the amount of time the average person spends as them as social platforms roll out better functionality and new features. Read our blog: Why Influencer Marketing Is The Future, for an in-depth examination.
Influencers Of Today
Gone are the days when companies relied on celebrity endorsements and advertisements to promote their products. The new generation requires social proof before buying anything, and this change in consumer behavior has altered the influencer industry as we know it.
Are you an influencer reading this, and aspire to become one yourself? Check out our blog: How to Become an Influencer in Your Industry, to learn the tricks of the trade.
If you are a brand looking to hire the right fit for your business, read our blog: How To Choose The Best Influencer For Your Business, for a quick guide.
Social media and celebrity
Regular people are becoming real-life celebs in their niches by creating curated content and connecting with fans. It is easier than ever to find people who do what you love, and brands are starting to prioritize them for brand endorsements because they have a genuine connection with their followers.
Kylie Jenner is a good example of a celebrity who built their career through social media and not the traditional means. Kylie is a successful make-up mogul, but it's her social media status that has helped her build her career from the ground up.
Traditional celebrities have now been forced to up their social media game to retain favor with brands for endorsement jobs. We are now seeing celebrities creating great content and interacting with their fans to convert their social media pages into powerful influencing hubs.
'Internet famous'
This used to be a thing back in the 2000s (think MySpace and Jeffree Star). But the rising power of social media, the internet, and easy-to-create content have made people hugely successful. These are real people, and even virtual celebs like Lil Miquela and animals like Lil Bub or Grumpy Cat.
These influencers are more approachable and relatable than the average celebrity since people have seen them grow their accounts and become internet famous. Their growth inspires people, and their followers get the sense that they, too, can become famous if they put in the hard work.
Reliability factor
Influencers are real. Why? Because they give their true opinions, connect with fans, and give their audience an insider view into their life. An effective influencer marketing strategy is built on meaningful engagement with your target audience. By sharing their honest opinions on issues that are important to them, social media influencers come off as reliable and their recommendations trustworthy.
In the tangled mass of online communication, consumers listen to the opinions of people they trust – people they think are competent and reliable experts on certain issues. Unlike traditional celebrities, consumers sympathize with social media influencers because of the valuable content they create on specific subjects such as travel, food, beauty, etc.
Difference between influencer; celebrity
Influencers interact with fans and are dedicated to creating content – it's their whole purpose. By specializing in a particular niche, they become experts and opinion leaders who sell their social media reach to brands. They operate as third parties in the supply chain, ensuring marketers can reach the right target group and giving trustworthy recommendations to buyers.
Celebs do social media posts and sponsorships because they can. Influencers have to earn it. Celebrities have many more followers than the average influencers, and brands use their publicity to attract buyers for their products. They may not be experts in those subjects, but their massive following helps brands reach many consumers.
Influencers Of The Future
The authenticity of influencer marketing is one of the major reasons it's doing so well. Making connections is now a bigger concern for the consumer rather than being sold to. Brands need to find better ways to connect with their audiences, engage brand loyalty and trust, and make a real connection. Influencer marketing will be more about real people who audiences can relate to and less about celebrities.
Will influencer marketing get saturated? Only time will tell, but one thing remains certain – as humans, we will never lose our need to connect with other people. Technological advancement may introduce other ways to market products to the masses, but word-of-mouth advertising will still remain the most effective way to connect with audiences. Influencer marketing is the best version of this where endorsers become like friends and family members we trust, admire, and listen to.
Smaller influencers have major sways over their markets, so as long as you're engaging with the right people, you'll be fine. Relevance is one of the most important things you need to consider when choosing an influencer if you want your influencer marketing campaign to be successful. A relevant influencer has an audience that aligns with your target market, and they share content relevant to your brand and company. For this reason, the influencer industry is expected to shift away from celebrities who promote anything as long as you can afford to pay their hefty fees to niche social media influencers who specialize in a particular subject.
Influencers are constantly bringing brands the results they want, and if this continues, we don't see a future where influencer marketing slows down. After all, being an influencer isn't easy, so the ones that try hard will get results for themselves and their collaborations. Influencer marketing has been generating a higher ROI than other marketing methods over the last few years, and we expect the demand for influencing services to continue as brands seek more authentic ways to connect with their audience. 
Influencers are constantly bringing brands the results they want, and if this continues, we don't see a future where influencer marketing slows down. After all, being an influencer isn't easy, so the ones that try hard will get results for themselves and their collaborations. Influencer marketing has been generating a higher ROI than other marketing methods over the last few years, and we expect the demand for influencing services to continue as brands seek more authentic ways to connect with their audience.
Social media has forever changed the way consumers will interact with brands. To learn more, read our blog: How Did Modern Day Influencers Become A Thing?
Influencer marketing is a highly effective form of marketing. Consumers are interested in making connections rather than being sold to, and influencers allow brands to connect with their audience in an engaging and authentic manner.
Influencers and influencer marketing is constantly evolving, so you need to work with professionals who are keeping up. An influencer marketing agency will link you with relevant influencers and manage the campaigns to ensure you get the best outcome from your collaboration. The trick is to find the right one! Read our blog: How to Choose the Right Influencer Marketing Agency, for expert tips.
Our platform AtisfyReach helps marketers automate key tasks such as influencer discovery, campaign management, contracts, and payments. Our platform uses AI and machine learning to target the right influencers based on the target audience you are looking for, gives real-time data on the campaigns, and makes reporting easier and faster for you. 
Scale your influencer campaigns with micro-influencers on AtisfyReach. Book a free demo here.