Traditional business owners, over the years, have spent a fortune installing colossal billboards and printing flyers to market their brand to a wider audience! The saddest part of these campaigns was determining if their hard work paid off!
In stark contrast, influencer marketing is a modern alternative that allows brands to reach thousands of customers in an instant and effortlessly measure their performance. Streamlined monitoring of tangible results is one of the most attractive features of influencer marketing. It helps brands calculate their return on ad spend (ROAS) and assess if this marketing method is profitable.
Figure 1: Influencer campaign report with key influencer metrics. Source
This blog shares the top eight influencer metrics you should track to examine if your influencer marketing campaign is a hit or a miss.
---
8 Must-Monitor Influencer Business Metrics
1. Reach and impressions
Tracking your reach and impressions is the first step to gauge your campaign's performance and effectiveness. "Reach" is the total count of people who viewed the influencer's content featuring you. In contrast, "impressions" indicate the number of times your content was displayed — but not necessarily viewed — on the users' screen.
Figure 2: Facebook graph indicating Reach and Impressions. Source
Reach and impressions are essential metrics in influencer marketing that represent brand awareness. Higher reach and impressions suggest strong brand familiarity, which gives you an edge over your competitors. 
Monitoring these metrics is crucial as it reveals the loopholes in your influencer's posts. For example, if the reach and impressions are skyrocketing but the conversions are minimal, then the content needs reframing. At the same time, a piece of content with a higher count also indicates its share-worthiness and appeal.
2. Account growth
A growing social media audience is another telltale sign of an effective influencer campaign. Tracking account growth is a must when determining how well your influencers perform. If the influencer thoroughly understands your brand and target audience, you will likely witness a spike in your followers.
Figure 3: Audience analysis on Instagram. Source
Keep a tab on your follower count when running influencer campaigns as an increasing number means more people are discovering your brand. Boost this metric by ensuring that your influencers tag your brand's social handles in all their posts and stories. This way, their followers, a.k.a your potential customers, can easily find your social profile.
This will also bring additional benefits to your brand. For one, your credibility in the market will skyrocket, helping cement you as an industry leader. In addition, you will have an unpaid army of advocates in the form of followers. They can spread the word about your brand and boost your sales.
3. Brand engagement
Your engagement rate is a crucial influencer metric as it highlights the involvement of your customers with the influencers' content. Brand engagement encompasses views, likes, comments, shares, retweets, and much more. 
Remember, likes, shares, and comments are not vanity influencer metrics. They are indispensable influencer engagement metrics, showing how customers resonate with your content. They portray audience health, demonstrating how responsive your audience is and if they are your "real" fans.
Brand tagging, product mentions, and hashtag usage are other exciting ways customers interact with a brand. So, make sure to monitor these customer actions, too.
While tracking, consider that different social channels will have different engagement rates. For instance, Facebook and Twitter typically have lower engagement rates ranging from 0.5% to 1%. On the other hand, Instagram has a relatively higher engagement rate of 3% to 6%.
4. Traffic Growth
Website traffic is another critical influencer metric to track. After all, every influencer collaboration aims to drive customers towards your website for conversion. This is why increasing footfall on the website is a critical indicator that your influencer is successfully promoting your brand.
Figure 4: Google Analytics indicating sources of website traffic. Source
Traffic growth even showcases that your target audience is receptive to brand partnerships. It is vital to assess website traffic before, during, and after an influencer campaign. And the best part is that measuring website growth is effortless with tools like Google Analytics.
The influencers you hire should also have a unique link to your website to help customers learn more about your brand and make purchases. There are multiple ways to share these traceable links, including Instagram stories, Instagram bios, and YouTube description boxes.
5. Sales Growth
The ultimate objective of every influencer campaign is to boost revenue. Influencer marketing is lauded for drastically increasing sales — with Daniel Wellington as an outstanding example. The famous watch company invested $15,000 in an influencer campaign and generated approximately $220 million in revenue. Simply put, a successful influencer strategy will positively impact your sales.
An increase in sales amidst an ongoing influencer campaign indicates the influencer you collaborated with inspired your customers. If you partner with more than one influencer, you can offer a unique promo code or referral link to each of them to track and attribute sales growth. Influencers will receive a commission whenever the code is used, customers get a discount, and you earn money — so the deal is beneficial for everyone. The unique codes will also help you compare which influencer made the most impact. If there is no growth in your sales, you may have to revisit your strategy.
6. Brand Sentiment
Brand sentiment is a social media influencer metric based on your audience's feelings about your brand. Customers only invest in brands they consider valuable, and influencers play a major role in creating an optimistic brand impression. Many brands deploy influencers to hone their brand image — and tracking sentiment is one way to find if the influencers helped you achieve your goal. 
Figure 5: A brand sentiment analysis report for L'Oreal. Source
However, "tracking" sentiment does not only sound bizarre but may seem like a tricky task! But it doesn't have to be. It is an easy-to-measure influencer metric with social listening on Instagram, Facebook, and other digital platforms, since customers freely voice their opinions on social channels.
You can measure all positive and negative sentiments around your brand through:
Social listening

Customer surveys 

User-generated content on social media (tags, hashtags, brand mentions, etc.)

Social media engagement (likes, shares, and comments)

Online reviews, ratings, and feedback

Email/SMS replies

Customer service calls
7. Cost Per Acquisition (CPA)
CPA refers to the amount you spend to obtain one customer. Tracking CPA helps brands assess if they are getting a sufficient return and the desired results, and this metric can be monitored by judging the fee paid to your influencers.
CPA is a pay-per-performance model wherein you pay your influencers based on the CPA rates they achieve — a higher fee for influencers who generate more sales and lower for those who convert less. The best part about the CPA model is that brands only pay for tangible results; the popularity and exposure they receive becomes an added, unpaid advantage. This payment method saves brands from paying for soft selling methods, such as likes, clicks, and views. 
The CPA model mainly works for micro-influencers who only promote relevant brands to cater to their small follower base. As a result, the chances of sales are high because the audience is already interested in your offer, and the influencer is keen on making conversions to get more commission.
8. Return on Investment (ROI)
Influencer marketing generates 11 times higher ROI than other digital marketing methods. Businesses can expect a return of $6.50 on every $1 they invest in influencer marketing. That said, tracking ROI is crucial to ensure your influencer campaign is profitable.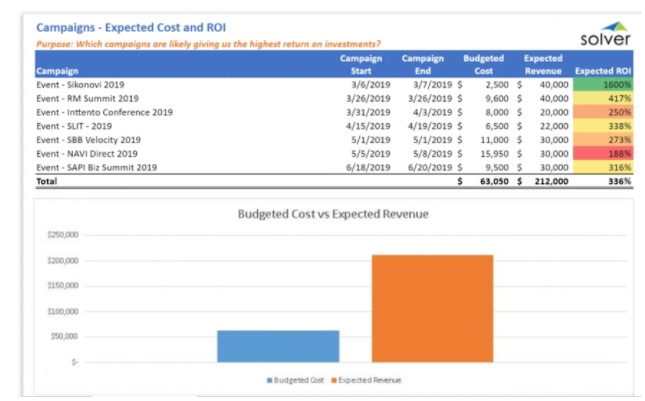 Figure 6: Example of a marketing campaign report highlighting the expected ROI. Source
Again, offering unique tracking links for all your partner influencers is the easiest way to determine who brings maximum value. This way, you can even terminate your collaboration with influencers whose fees outweigh your returns.
Here are some tips to boost your ROI with influencer marketing:
Set clear goals for your marketing campaign and communicate them to your influencers.

Choose influencers who are experts in your industry.

Be open to influencers' innovative ideas for the campaign.

Solicit honest product feedback from the influencers.

Ask influencers to define the participation criteria for giveaways clearly.

Ensure the influencer's personality is in sync with your brand identity.
---
Looking for industry-leading influencers who fit your budget and can offer a higher return on investment? We have a streamlined strategy for landing influencers that match your brand's personality. All you need to do is register with Atisfyreach, our AI-based influencer marketing platform that simplifies collaborations with top-notch influencers.
Our experts designed this platform to connect you with like-minded influencers, and ensure that your influencer metrics never dishearten you.
Collaborate with successful influencers with Atisfyreach — register now!