With the advent of social media, we have all undertaken the journey from consumers to creators and produced UGC. Consumers today are an active, creative lot, unlike in the past, when we just used to watch ads on TV. Today, all of us have created a video at least once in our lives.
It is people like us who create content for various social media platforms and keep our feeds flooded. As a marketer, you can leverage this user-generated content, or UGC, to catapult your brand. 
---
What Is UGC?
UGC, or user-generated content, is created by individuals for a brand. It could be in any form – photos, videos, or even long-form text. Taking a cue from other brands, who generally repurpose this content, you too can use it for your marketing campaigns. 
Sometimes to get content, brands launch contests for the public or enter into a partnership with creators. This gathered content is not on par with glittering TV ads, but it is the rawness of this UGC that makes it much more appealing. Consumers take it as more realistic, something closer to the content they create and watch online. 
If you are yet to hitch a ride, we'd say it is just the right time to venture out on this journey and get high-quality UGC on a scale for your brand. So, what are you waiting for? Let's get on with this. All you need to do is soak up the information that we will give in this blog and use it to your advantage.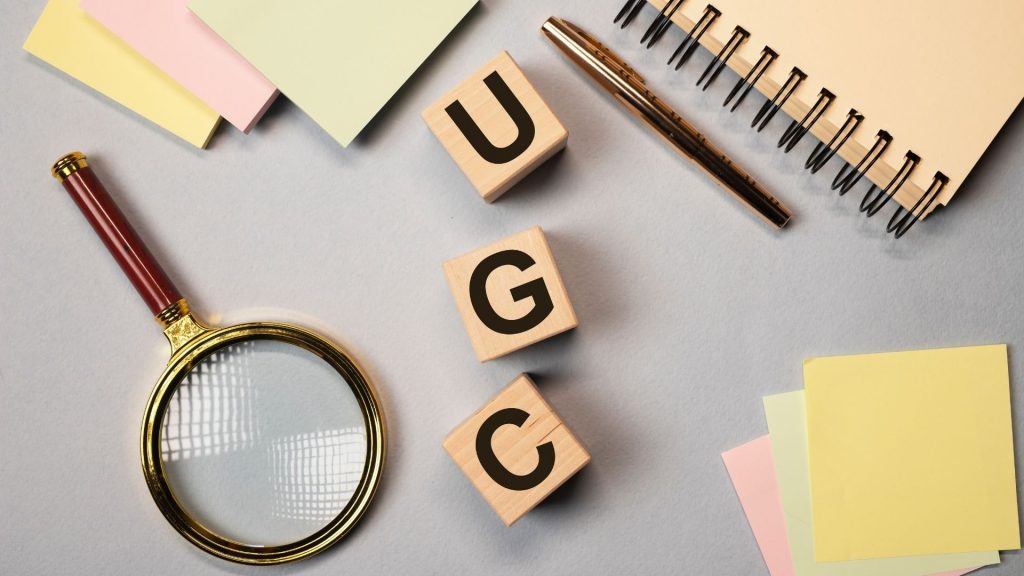 Why Is UGC Effective? 
Today, using UGC content may have become the norm, but the transition was not so smooth. The brands were wary of unpolished-looking content representing them. But the world changed along with technology and the consumer became the content creator. 
Data has proved that user-generated content is the most trusted, memorable, influential, and freely available resource that brands can use. From the older platforms like Facebook to newer ones like TikTok, all support user generated content. Let us shine some light on factors that make the use of UGC such a powerful strategy for any brand.
It Is Authentic
Surveys have proved that 60 percent of consumers believe that UGC content is more authentic than the sophisticated ads that have ruled the markets. Consumers listen more carefully to a person like them talking about a product rather than a brand blowing its own trumpet. According to a survey, while 56 percent of the subjects were keen on UGC, only 15 percent wanted brand-created content. 
But why does UGC rank so high on the authenticity scale? Consumers relate more to ordinary people, and they believe that authenticity can't be faked.
It Is Cost-Effective
Besides being easily available, UGC is an inexpensive resource to promote your brand. All the money you have been spending on hiring creative teams to develop ads over and over again can be saved. This work could be handed over to the public, who are eager to talk about your brand online. Taking leverage of the free UGC available online to position your brand better is a no-brainer. All you need to do is nudge your followers, and there will be no shortage of content for your brand. 
It Is Easier To Track
Tracking the effectiveness of a campaign using UGC content could be a daunting task. But only if you don't employ the right tools. Without the right tools, your budget and plan may go haywire as many people could be involved in creating content for your brand. Since performance metrics are typically tied to the specific goal, tracking user-generated content is a must if you want to take leverage of the campaign. However, to make things easier, there are many ways to tackle the issue. But the easiest one is to use a trackable link that connects every single channel. Here are a few things you could do to track your UGC campaign:
Establish the broad objectives you want to attain.

Determine your UGC KPIs depending on your objectives and distribution methods.

Before you start implementing your plan or campaign, make a list of the metrics you want to track.

For each of your KPIs set numerical performance goals.

Keep an eye on your KPIs and make strategic changes as appropriate.
It is memorable 
Making a campaign memorable is all any marketer wants. But making your voice heard in all the noise is not easy. Even the glossiest of pictures get buried. So, what do you do? We'll say you are at the right place at the right time. User-generated content is a proven miracle that latches on to the memory, way better than traditional advertisements. 
It builds customer trust
Building a rapport and trust with the audience is what every marketer desires, but it is elusive. However, UGC helps create that bond of trust with consumers since it is authentic.
It improves conversion rates 
UGC converts consumers. The brands' choice of content highly impacts purchasing decisions. In a survey, 79 percent of consumers said UGC swayed their choices while shopping. When Air France used user-generated content in Facebook ads, they saw an 11 percent increase in click-through rates and a 21 percent decrease in cost-per-click.  
It cultivates community
People like to connect, and brands can make use of this human trait to their advantage. Making it your marketing strategy, you can build a community that adores your brand and increase direct interactions with consumers. You can then leverage the interest of this set of loyal customers to convert more people. You can encourage your existing customers to share their personal stories and experiences regarding your brand with the target audience. 
It is scalable 
With so many platforms fighting for consumers' attention, creating new, engaging content to feed the eager, ever-hungry consumers is a big ask for any brand. And UGC remains an untapped source of content. UGC enables brands to seamlessly scale up their content initiatives, especially when they have technology to help curate the content.
How Can Marketers Find UGC? 
There is no dearth of user-generated media. All you need to do is dig it. But how can a brand find UGC? Let's dig deeper and find out how to look for UGC on different social media platforms.
Facebook
Facebook is still the biggest avenue for influencer marketing campaigns. Check-ins are the first place where brands should check out when looking for UGC. If you are in the hotel or restaurant business, you can see check-in photos of your property posted by your customers in the 'Activity' tab under 'Notifications'. But for untagged pictures, you will have to search for hashtags or the name of the property. However, it is not so easy. You can encourage customers to use specific hashtags while posting memories of your property.
Instagram
This is the best platform to look for UGC, particularly because of the effectiveness of hashtags. You can go to your profile and check out the photos you are tagged in by clicking the photo frame icon on the right. Using the same example, you may find your property's photos by typing in the name of your hotel or restaurant in the 'Explore' section.
Twitter
Unlike Instagram, looking for images of your property on Twitter could be tricky. Hashtags on Twitter are not as popular as on Instagram, and people might not tag your brand. That, however, doesn't take away from the platform's influencer marketing potential. You can check for content under the "Mentions" section on your profile or search for keywords that could be used to describe your business. 
Pinterest
The easiest of all the platforms to look for user-generated content is Pinterest. All you need to do is type out the name of the property in the search bar. If you have an active hashtag doing the rounds, you can also type it out to find all the Pins, People, or Boards. 
Curate UGC From Social Platforms
You can follow any or all of the steps below if you want to learn how to curate user-generated material from social media platforms: 
Hold contests
Organize contests and reward the contributors of content. This strategy is pretty standard and can be widely applied to any business, from a local salon to an MNC.
Tap existing customers
Your existing customers are the gold mine. Examine the photographs they've posted, and you might be surprised at what you uncover! If you want to use this UGC, don't go ahead without seeking their permission. 
Access creator marketplace 
To get UGC on a scale, you can dip your toes into influencer marketing. The creator marketplace has various advantages, including:
The ability to reach a ready-made audience.

Creative people create content.

More control over the themes and timing of your posts.
An influencer marketing agency works in such a way that it helps you develop a connection with the people of your choice. You can look for a potential partner on a platform of your choice. Every platform offers you a choice to refine your search based on demographics, follower counts, and other factors.
Tips To Get High-Quality UGC at Scale 
Give creative briefs to influencers.

Allow them creative freedom, but they will have some perspective if you present them with the context.

Convey clear details regarding technicalities. Make sure you put across all the information regarding the platform or format of content that you would want them to use. 

Ensure that a contract is in place so that no issues regarding payments or intellectual property crop up at a later stage. 

When working at scale, things can easily take a wrong turn. Try to streamline everything so that the workflow can be made smoother for both you and your influencers. 
How Much Should You Pay For UGC?
It may be the last question, but it is one of the most relevant ones. What should a brand pay to use user-generated content? There is no set industry standard, it all depends on a variety of things, such as::  
The size of the creator's fanbase.

The kind of engagement with the content. 

Duration of the video.

If they edit their videos.

If you have whitelisted them or not.
According to one estimate, a nano influencer will charge around $80 and a mega influencer will cost around $160 for a 60-second clip. However, if scale is important to you, nano- or micro-influencers are recommended.
---
Getting high-quality UGC on a scale may not be very difficult, but you should know how and where to look for it. Using user-generated content could be a blessing for brands since it is considered authentic and builds customer trust.  But you may require some professional help when running a campaign with UGC on a large scale. Worry not. Experts at atisfyreach are here to help. Register your interest with us and get in touch with professionals today.