Influencer marketing has remained one of the most effective ways to market products. Unfortunately, this is changing as the influencer marketing space is becoming competitive. Almost every brand is tapping into the influence of social media content creators. Therefore, many companies find it hard to entice their customers to stand out. Merely collaborating with influencers and having a high follower count is no longer enough to be successful in today's digital world. You must go above and beyond and create innovative influencer marketing campaigns to achieve your business goals. This is where multi-generational TikTokers come into play. They are your key to running a successful business. 
In this blog, let's learn what multi-generational TikTokers are and how they can benefit your brand. 
---
What Are Multi-Generational TikTokers?
You may have seen videos of popular TikTokers bringing their families on the virtual stage and creating fun TikTok videos with them. These influencers that feature their parents or someone not belonging to their generation are called multi-generational TikTokers.
Interestingly, incorporating family members in TikTok videos has become a trend. Even more interesting is that these videos can help drive more sales and generate higher revenue. They are fun to watch and attract the TikTok audience, often garnering millions of views. Therefore, such TikTok videos can increase your brand awareness and spread the word about your products.
Multi-generational TikTokers are soaring in popularity, as many consider their parents to be an essential part of their influencer journey. According to a study, two out of five Gen-Z and Millennials say that parents play a critical role in their purchasing decisions. The increase in inter-generational living, especially among the younger population, has also resulted in multi-generational influencers snowballing into popularity.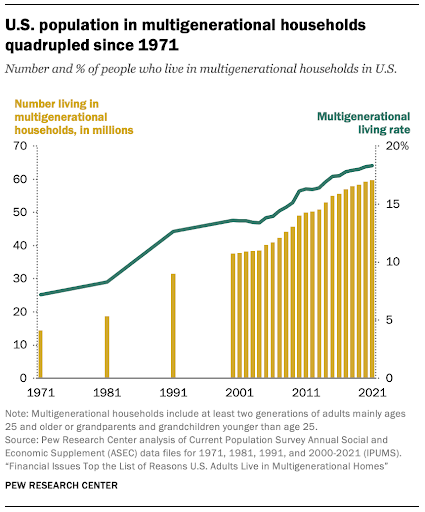 Figure 1: A steady increase in multi-generational households in the US. Source: Pew Research
This means now is the time that your brand should emphasize "parent power" and become a part of the brands collaborating with multi-generational TikTokers!
Benefits Of Working With Multi-Generational TikTokers
One of the most common benefits of partnering with multi-generational TikTokers is exposure to a new customer segment. TikTok videos with multiple generations other than your target audience help amplify your reach. It is a gateway to getting in front of new audiences for whom your products may be relevant. Such videos also appeal to the older generations equipped with purchasing power.
Additionally, these TikTok videos are highly shareable and can be forwarded to people belonging to different generations. The content of multi-generational TikTokers is more shareable as it is relatable for more than one generation. So, if you're aiming to broaden your customer base and connect with a new audience, then collaborations with multi-generational TikTokers is vital.
Ability to change brand perception
Multi-generational TikTok partnerships are also beneficial for brands trying to transform their perceptions. If your products are solely used by, say, the younger generation, but you want to change that, multi-generational influencers can help you out. Besides, if you've been marketing your products to a specific customer demographic but are universally suitable, a multi-generational influencer can convey your message through their content.
Multi-generational TikTokers can present their friends and family members of a different generation as test subjects for your product. Sharing how your product worked wonders for your mother will entice many more mothers to buy it!
The positioning of your company as a legacy brand
Though small, indie businesses are becoming the center of attraction on popular social media platforms. But they can hardly beat legacy brands. Bigwig brands are gradually tapping into their legacies to boost credibility, stay relevant, and maintain a consistent cash flow.
If you're a legacy brand, you can highlight this fact by partnering with multi-generational TikTokers. Videos of these TikTokers with their parents or grandparents still using your products will bring to the fore your everlasting existence. This content will help you flaunt the timeless quality of your business and reinforce your authenticity.
Family-friendly usually means "universally inoffensive"
Another added benefit of hiring multi-generational TikTokers is that their content is usually family-friendly. So partnering with them will create a similar perception of your brand. Your brand and social media content will also be considered family-friendly, thereby inoffensive.
This will help create a globally inoffensive presence, as family-friendly content is universally accepted. This will further boost your reach and global recognition, helping you drive more sales.
Tips While Collaborating With Multi-Generational TikTokers
We have curated four crucial tips to maximize the benefits of collaborating with multi-generational TikTokers and help double your sales.
Collect ratings of your products 
When partnering with TikTokers, most brands' vision is limited to creating engaging content that gets more views and increases brand awareness. They forget that influencers use their products before posting content based on it. Therefore, they have the authority to give reviews, too. And their reviews hold more weight since they have a credible social media standing.
So, when partnering with multi-generational influencers, collect their reviews and ratings. Studies show that customers are four times more likely to purchase products with 5-star reviews. Positive reviews on your website and social media profiles will drive more sales.
A limited vision again comes in the way of fully leveraging the power of TikTokers in today's digital landscape. We only see TikTokers as people having a wider reach and collaborating with brands to promote their products. But we fail to recognize that influencers often have other full-time jobs and are qualified professionals. Therefore, they can be a fitting inclusion in your digital focus group or research panel.
In other words, you can leverage the industry expertise of the TikTok influencers to boost your credibility and give more reasons to your customers to use your products. Contrary to self-proclaimed "experts," many TikTok influencers hold a license or certificate in the field they're creating content around. The reviews and feedback of these qualified influencers will be more valuable and help you get more conversions. Partnering with such relevant influencers will validate your product. For instance, collaborating with dermatologists-cum-influencers will be extremely beneficial if you're a skincare brand.
Many brands consider influencer marketing the last step in their marketing plan. So, they only bring in the TikTok influencer at the end of the campaign ideation process since influencers are solely used for promotion purposes. However, in doing so, you're losing out on many innovative ideas that these influencers have.
Remember, multi-generational TikTokers create content and engage with their audience daily. Therefore, they thoroughly understand their audience's likes and dislikes. So, if you bring them on the scene before starting to create your campaign, they'd be better able to tell if an idea will work beforehand. This will save time and effort, helping you quickly create effective campaigns.
Use affiliate codes at checkout
Another important strategy is to utilize affiliate codes. Assigning affiliate codes to the TikTokers you're partnering with will help you know the source from where the customer is led to your website. These codes are the basis of affiliate marketing, assisting brands in tracking their traffic source and giving commissions accordingly. 
These codes also allow you to measure the performance of the individuals you've collaborated with. You'd precisely get to know which influencer performed that best and the worst. This will also help you determine if you're getting a higher return on investment in your influencer marketing campaigns.
Bonus Inspiration: Top Multi-Generational Families To Follow
Figure 2: The D'Amelio family. Source: Glamour UK
Every TikToker would have seen videos from Charli and Dixie D'Amelio at least once! Both have mustered millions of views on TikTok, and now they even have a family account. If you're wondering if multi-generational TikTokers get more views, the D'amelio family is a living witness! They are an excellent prospect that renowned brands with a high budget can partner with if investing in multi-generational marketing. Collaborating with them will give you immense exposure and open many more business opportunities.
Figure 3: The Fullmers. Source: Fullmhouse
Couple Kelsi and Caleb Fullmer are amazing TikTokers and have four kids together. They enjoy welcoming people into their lives and creating lasting memories with them. They usually make TikTok videos around the ongoing trends and challenges and can often be seen on the For You page.
Figure 5: Joe Mele with his father. Source: mmmjoemele
Joe Mele is another popular multi-generational TikToker with MmmJoeMele as his TikTok username. His hilarious videos often feature his serious and supposedly unwilling dad. He dresses up his dad as animated characters to cheer up his TikTok audience and solicit his dad's opinions on some issues. This father-son duo is entertaining to watch and collaborate with. 
The Lynch Family
Figure 6: The Lynch family. Source: Urle Bird
The Lynch family is the epitome of multiple generations coming together on the TikTok stage. The family consists of a mother, father, six adult kids, spouses, and pets. Boasting over 16 million combined likes, this family has amazed the TikTok audience with their consistent social media efforts.
Figure 7: The Kabs family. Source: thekabsfamily
The Kabs Family is another multi-generational TikTok account you can't overlook. Consisting of a mother, father, and three kids, this family is famous on TikTok, Instagram, and YouTube. Their videos are entertaining and funny.
Figure 8: Tate & Family. Source: Tate&Family
Tate & Family is another popular TikTok account where older kids engage in funny family pranks and challenges to enthrall their audience. Their easy-going, humorous videos get thousands of views and likes.
---
How Can My Brand Find Multi-Generational TikTokers Effortlessly?
Partnering with multi-generational influencers is indeed beneficial. But finding the right influencers that have a similar target audience is challenging. But this is where our digital product, Atisfyreach, comes into play.
Atisfyreach is an AI-based influencer marketing platform that connects brands with credible influencers. Visit our website to know more and sign-up at Atisfyreach today.