Influencer marketing is considered one of the most effective marketing techniques. Today, 10% of companies readily spend $100,000 to $500,000 per year solely on influencer campaigns.
After a couple of successful influencer campaigns, brands often run campaigns with a broad spectrum of creators to expedite their growth. These influencers impact the purchasing decisions of today's customers, who are heavily reliant on social media for product recommendations and reviews. Harnessing the power of multiple influencers ensures an extended outreach and higher sales. Big brands like Glossier and Daniel Wellington transcend all limits by hiring over 500 ambassadors, and their campaigns are awe-worthy! 
We have curated the top 5 brands that have raised the bar by running campaigns with multiple influencers. Not only that, but they have set a standard with their fantastic influencer management skills.
---
5 Brands That Ran Stellar Campaigns With Multiple Influencers
1. Glossier Encourages All Women to Showcase Their Favorite Products: Targeted Demographic
Figure 1: A customer promoting Glossier. Source: Six-Degrees
Glossier is a famous US brand known for its premium skincare products. The brand is extremely customer-centric, claiming "everything we make starts with you." Glossier staunchly believes that a beauty routine should be fun. They try to make products that streamline women's skincare routines. 
Since the brand was founded in 2014, it has positioned itself as an authentic company. To that end, "normal" women are at the center of their influencer campaigns. Glossier doesn't rely on typical influencers with a wider following to endorse their brand. Instead, it depends on existing customers to spread the word about their brand and products. Glossier's marketing approach is inspired by its belief that every individual can be a successful ambassador. So, social media users promote their products, regardless of their follower count. 
This approach sets Glossier apart from its competitors, who often partner with beauty influencers for brand endorsements. Therefore, Glossier has as many as 500 ambassadors who share their skincare routines and makeup tutorials. While doing so, they speak about their favorite Glossier products. All ambassadors are paid in product discounts and non-monetary incentives.
Why it worked: The brand stays true to its values by encouraging and featuring its customers. Since Glossier is built on the foundation of minimalism, simple beauty products, and authenticity, bringing non-influencer customers into the scene was the best move. Lastly, redefining influencer marketing helped Glossier stand out from its competitors and get immeasurable attention from its target audience.
2. eBay's #FillYourCartWithColor Campaign: User-Generated Content (UGC)
Figure 2: Ebay's #FillYourCartWithColor campaign. Source: Fashion Network
eBay is one of the most popular e-commerce platforms. The brand conducted a study that revealed that 9 in 10 Americans (93%) purchase products that reflect the "real them." This study motivated eBay to develop a campaign called "Fill Your Cart With Color." The campaign aimed to combat all the "beige" in the common online retail experience and highlights that eBay enables shoppers to shop vibrantly.
eBay has buyers and sellers coming from diverse backgrounds. This creates a rich and dynamic environment on the platform, says the Chief Marketing Officer for eBay, North America. Considering this diversity, the eBay launched this campaign celebrating individuality and self-expression, which is also the essence of this e-commerce brand. The campaign was developed by a global marketing and advertising company called 72andSunny. It was an attempt to personalize eBay shopping experience by leveraging AI and Machine Learning. The goal was to give shoppers tailored recommendations and a unique inventory mix.
eBay also partnered with multiple influencers on social media to help spread the message. However, eBay never solely relied on influencer content. It also utilized UGC and encouraged customers to use the branded hashtag "FillourCartWithColor." Interestingly, many influencers who didn't officially partner with eBay also used the hashtag, boosting awareness. As a result, the campaign received an extended outreach.
Why it worked: eBay's campaign generated sales in leaps and bounds because of the wise hashtag use. The hashtag had a broad usage. Therefore, influencers, shopping enthusiasts, fashion bloggers, and many others from various backgrounds could generate content around it. This, in turn, reinforced the brand's core values. 
3. Nutpods: Brand Ambassador Program
Figure 3: Nutpods' Ambassador promoting Nutpods creamer. Source: GRIN
Nutpods is a brand selling creamers used for tea and coffee or as a cream substitute in baking. The creamer is a blend of almonds and coconuts. Nutpods' products are certified to be vegan and gluten-free. Therefore, the company is famous among fitness-conscious people. It was fortunate enough to garner a positive reputation among its target audience. Therefore, it didn't have to search for influencers to promote its products — its loyal customers were readily available for brand endorsement.
Nutpods runs an ambassador program for social media users with a public IG page and business account. In exchange for spreading the word, ambassadors get a welcome care package, access to limited edition products, and exclusive swag items. Some even get paid opportunities and co-branded influencer boxes.
The Marketing Manager, Lydia Lee, was tasked with screening and onboarding potential ambassadors, hand-picking sample products, and sending them to the creators. However, managing such tedious tasks manually became impossible, especially when the influencers scaled to 50. This was when Nutpods resorted to software, which helped it scale influencer marketing further. The ambassadors grew from 50 to 100 to 150! But that right software streamlined the entire process for Lydia. And as a result, Nutpods became the No.1 creamer substitute on Amazon.
Why it worked: One of the primary reasons behind Nutpods' success was an efficient system for influencer management. The software eliminated all errors and automated many menial tasks, allowing Lydia to do other important tasks. Therefore, the brand could generate more than 1,000 link and code conversions and accumulate over 3,000 pieces of influencer-generated content.
4. Sperry: Working With Micro-Influencers
Figure 4: A social media post by an influencer featuring Sperry's footwear. Source: Adobo Magazine 
Sperry was founded in 1935 by a sailor and explorer, Paul Sperry, and has become a popular manufacturer of hand-crafted, sea-worthy footwear. Sperry also relied on influencer marketing to reach their target audience and raise awareness for wet weather shoes. One of the brand's objectives was to position itself as a "fashionable" brand, too. 
Sperry's influencer campaign was 2 weeks long and incorporated over 100 fashion influencers with a decent follower count. All these influencers posted their outfit of the day, including the stylish Sperry boots, under the hashtag "OOTD." The campaign aimed to boost awareness.
Why it worked: Sperry's campaign was a success because the brand collaborated with micro-influencers with 10k to 50k followers. These creators have a tight-knit community and only upload high-quality content to retain their followers. Moreover, they target a highly niched audience, which is also what Sperry targets — people who are often in an aquatic environment. Not only that, but Sperry managed its multiple micro-influencers well, helping each one understand the products, brand story, and values.
5. Gymshark: Influencer Content on Their Website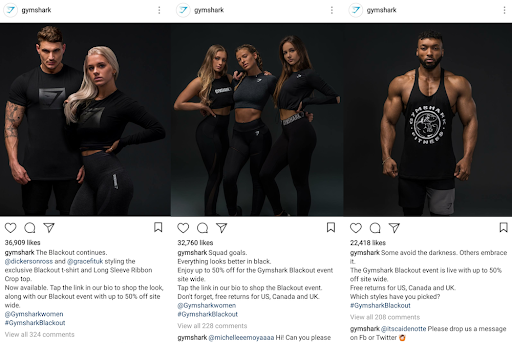 Figure 5: Gymshark's IG posts featuring influencers. Source: Medium
Gymshark is one of the most influential British fitness brands that has become a £1billion+ company today. Gymshark also took the influencer marketing route and partnered with famous social media content creators in the fitness industry.
However, one crucial feature that set Gymshark apart was that they posted influencer content on their website. Gymshark created a dedicated landing page that includes a list of influencers they partnered with and social proof to highlight popular athletes wearing their apparel. Another interesting twist Gymshark brought is adding a Spotify playlist of workout music recommended by the influencers on their website.
Why it worked: Gymshark's campaign was fruitful because the partnership was mutually advantageous — Gymshark didn't have self-centered motives. While the influencers featured on the website received exposure, the brand benefited from their popularity.
Do's & Don'ts Of Managing Multiple Influencers
If you are running influencer marketing at scale, here are some do's and don'ts to remember: 
Offer creative freedom to the influencers you're working with. Don't give them strict editorial guidelines about the content they'd upload. Remember, they understand their audience better than you and know how to create engaging content that compels customers to buy your products. 

Don't ask influencers to go "off-brand," as this will harm the positive relationship you have created with them. Just like you, influencers have created their personal brands. And asking them to deviate from that path will sound impertinent.

Provide influencers with fair compensation. Though money may be secondary for some influencers, the monetary benefit you offer them is directly proportional to how much you value them.

Don't rush

but give your influencers ample time to create posts that bring more sales

. So, don't set tighter deadlines.

Clearly communicate your campaign's goals to the influencers. They should know what they are signing up for and if they'd be able to bring the anticipated results. 
---
Ready To Hire Multiple Influencers For An Extended Outreach?
Now that you have learned how to run campaigns with multiple influencers successfully, it's time to hire the best influencers to build brand awareness. "So, should I start looking for influencers on various social media platforms?" Fortunately, you don't have to take the pain to do this arduous job because we've done it already!
Atisfyreach is an influencer marketing platform that connects brands with experienced influencers having the same target audience. You just have to register your interest with us, and we'll handle the rest.